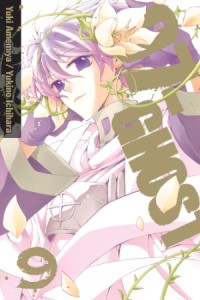 "The Radius"
Title: 07-Ghost Volume 9
Story: Yuki Amemiya
Artist: Yukino Ichihara
U. S. Distributor: Viz Media
U. S. Release Date: March 11, 2014
Format: Manga, supernatural, adventure, 200 pages
Age Rating: T for Teen
Overall Personal Rating: C+
Synopsis:
Teito saves Ouka from a robbery. She is a young lady who at first appears to have an angelic form.  Actually it is her fyulong, Kururu (like Mikage) around her shoulders. Ouka has the power to heal and wants to become a doctor.  It seems like they have met before. They suddenly find themselves captured by a Wars and trapped in a frozen prison.
The Master of the Kraut house has developed a following of cult level. He ministers to his people by selling magical incense. What is the secret underlying the Kraut house and what is the connection to the Wars? Learning the background, we find out how it came to be and the awful truth behind the cult.
 Commentary:
As a series, 07 Ghost has a problem with clarity, both in story and art. I find it mostly confusing, but this volume made the most sense in a long time.  At least I could see the technique of mixing in tantalizing bits of information related to nothing we know about to be explained later in a reveal. I think there is an interesting story line lost in all of the excess. It's just not very linear and some of the excess elements need to be edited out.
Just as always in 07 Ghost, the images are beautiful, showing dynamic use of black and tones but it often comes across as confusing. There are many creative perspectives and action scenes but I have to find something I recognize and work my way around to decipher the images. That doesn't seem like a successful manga art to me. "Let's see, here is an arm, then this must be the head although I can't figure our the whole face, oh, look a foot, but this other foot seems to belong to someone else…" Even trying to decipher Kururu amoung all of Ouka's hair took several tries.  
As far as characters go, Ouka was a nice addition. She makes sense. Sure there is a secret to her identity, but it is actually reveal in the volume that she is introduced! She is incredibly cute and the usually optimistic young lady. It is Kururu who sort of acts as the voice of reason. It is interesting that Kururu can talk, so maybe Mikage will eventually be able to.
As far as the overall plot of the story is going, there is an interesting introduction in volume 9,but no hint at the importance other than to complicated Teito's "mission".
As a final note, I know there are people out there who love the series. It was originally started in America by another publisher, but they shut down and now it has been picked up by Viz. It goes to show that there is enough there to be picked up by at least two publishers for the USA market.
Extras:
4  panel comics
Overall Grade: C+