Animeggroll's 8th Anniversary  Gundam Build Competition.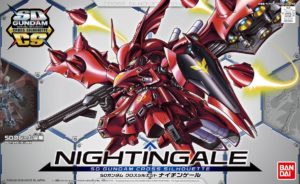 Rules: Each builder will be given 3 hours to build and modify the Nightingale SDCS. Each builder will be provided a Nightingale SDCS model. They will also be assigned a specific working space of 1.5 X 3 feet. The Builder will be allowed to bring in any build equipment or accessories to aid them in the customization of the model, but it must fit in the assigned workspace. Please note: no spray paint is allowed.
At the end of the 3 hour build, 3 judges will review the builds and pick their winners. There will also be another special category for this competition. Because this is Animeggroll's 8th anniversary, the special category will be among builds that incorporate the modern or traditional symbols of the 8th anniversary in a meaningful way: Bronze, Pottery, Linens and Lace. This special category will be judged by the Animeggroll staff.
Once judging is completed, the winners will be announced and the competition area will be opened up for spectators to view everyone's hard work.
Entry Fee: $18.00 will be required to compete.
Pre-registration is required.
There is a limit of 16 spaces available and once those are filled registration will be closed. There will be no registration allowed after Thursday October 16th.
Date: Sunday October 21st, 2018
Start Time: 1:00 PM
Registration: Sept. 18th thru Oct. 18th