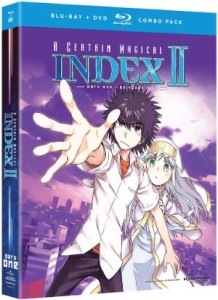 Title: A Certain Magical Index II part 1
Director: Hiroshi Nishikori
Studio: J. C. Staff
U. S. Distributor: Funmation Entertainment
U. S. Release Date: Oct. 28th, 2014
Format: DVD / Blu-ray / 12 episodes / 300 minutes
Genre: Fantasy, Harem, Comedy
Age Rating: TV 14
Overall Personal Rating: B+
Synopsis:
The Book of the Law – an encoded grimoire containing catastrophic magic – has been stolen, so naturally Kamijo, Index, and a few familiar faces join in the crusade to protect the one nun who can decipher the powerful text. But as the group battles church sects and holy assassins, they realize that discovering who their true enemy is may be more difficult than saving the sister. Meanwhile, an organization known as the Science Society resurrects an esper-producing program, a school festival brings out the competition – and drama – in the student population, and a mysterious figure negotiates the purchase of a sacred relic that could threaten the future of Academy City.
Commentary:
Magical Index season 2 takes up right where season one left off. We jump right into the next drama for Index and Kamijo, but this time it looks like there is something rotten going on between the churches. Of course I really like the dramatic edge, but the one thing that makes me rather sad about this series is the Moe. The fact that Index looks like a 12 year old is ok, but when they bring in nuns that look 12 and dress like street walkers with very sexy habits on it is just disturbing. There is also the obligatory fall that becomes a face plant in front of a panty shot. Now I thought that took it too far.
Anyway, the series is staying strong and the characters begin to develop more. It is possible that Railgun will end up being the better series, but for now I still prefer Index. I think the premiss that is being setup is smart enough to take the series to a great ending. I just hope that the right questions are answered to finish it out. If they leave too much open then it will just be another failed series.
Overall Grade: B+
I thought these next 12 episodes did a lot to further the series, but lost me a little with the sexy 12 year old nuns. I think it would have been better to make them seem angelic and then give them a sinister layer beneath the robes. I guess there needs to be more secrets and some betrayal of the belief systems for the series to work, but I'm still not sold on what is being rolled out at this stage. I am looking forward to the completion of the series and feel as though people will be pleased with part 1 os season 2 of A Certain Magical Index.