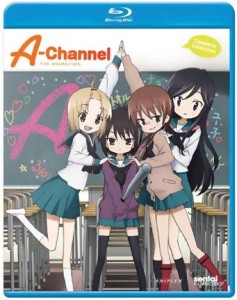 Title: A-Channel the Animation on Blu-ray
Director: Manabu Ono
Written By: Tatsuhiko Urahata
Original Creator: bb Kuroda
Studio: Studio Gokumi
U. S. Distributor: Sentai Filmworks, Section 23
U. S. Release Date: Jan. 27th, 2015
Format: Blu-ray / 12 episodes, 2 OVAs / 300 Minutes
Genre: Slice of Life, Comedy, Girls High School
Age Rating: TV PG
Overall Personal Rating: B
Synopsis:
Toru and Run have been best friends forever, so when Toru learns that she's managed to get into the same high school as Run, she runs to tell her… only to find Run in a compromising position with yet another girl, Yuko. Needless to say, that makes things a bit awkward at school, with Toru fending off those who might be interested in Run while Yuko and their other girlfriend, Nagi, have to deal with Run's own penchant for drama.
But it's not all angst all the time, and as the school year progresses the four girls and their many classmates find time to laugh, play, and figure out how to handle the unexpected problems life likes to throw at the them. Like bugs in the house, accidentally giving each other horrible haircuts, freezing up at karaoke, or forgetting to put your underwear on in the morning.
Commentary:
Taking on the world of girl high school slice of life series is a tough road when you have series like Lucky Star, K-On!, and even The Melancholy of Haruhi Suzumiya, but A-Channel does a great job of jumping right in. There is plenty of simple cuteness and comedy though out the series and with a straight forward plot it is easy to get connected to the characters. I have to hand it to the creator (bb Kurada) for not making things too complicated and just letting these girls live in this rather happy world.
The real strength behind the series is the character development or should I say simple character development. A-Channel isn't trying to make any grand gestures or give us something to contemplate over the year. It is just trying to give us something to smile about about and that is exactly what it does. I can't say that there is a character in the series that I don't like for some reason or another.
Overall Grade: B
The one area I felt was lacking was the animation. I get that the story is about these girls moving though their daily lives in high school, but the look flattened it out too much and left some of the enjoyment of the characters out of the equation. I understand the cute or Kawaii aspects to their almost chibi forms and do see how it might attract a wider female audience. For me I was a little less attracted to these girls because of the big heads and tiny limbs rendering of their forms. I guess that I just am not a fan of this look and also found it to be a little off putting with Lucky Star and some of the slice of life series that pick this basic form. For A-Channel and the simplistic approach to the plot line the animation style just left me a little flat. It would have been more suited to stylistic work done in Aria where the girls take on a much more human form rather than the big head thing that is happening in the series.
A-Channel is a solid comedy that tends to make you smile more than laugh out loud. The story is simple and this provides a carefree viewing experience that is sometimes just right.