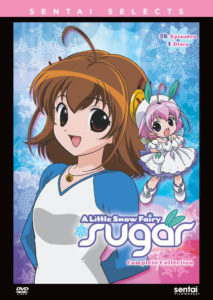 Title: A Little Snow Fairy Sugar Complete Collection
Director: Shinichiro Kimura
Studio:  J. C. Staff
U. S. Distributor: Sentai Filmworks, Section 23
U. S. Re-release date: May 3rd, 2016
Format: DVD / 26 Episodes / 650 Minutes
Genre: Comedy, Fantasy, Slice of Life
Age Rating: PG
Overall Personal Rating: B+
Synopsis:
When young Saga offers a waffle to a small hungry creature in a fluffy outfit, she has no idea that the "creature" is Sugar, an apprentice fairy sent to Earth to find a "twinkle" as part of her test to become a full-fledged season fairy! Unfortunately, neither Sugar nor her two companion fairies, Salt and Pepper, have any idea what a "twinkle" is, but that doesn't stop them from moving in with the unusual girl who can somehow see them! And since none of Saga's friends can see fairies, they all think that Saga is acting really strange. As more and more season fairies keep arriving, Saga's bemusement turns into desperation. Can she find out what a twinkle is and help the fairies find one before she's drowning in fairy dust? The answers will surprise you in the hilariously sweet adventure LITTLE SNOW FAIRY SUGAR!
Commentary:
Sentai Filmworks is on a roll with the re-release of classic titles this month. A Little Snow Fairy Sugar is one of the better gateway anime for the younger female fan. Honestly, it is very, very sweet and at times annoying, but it will keep a young fan who loves girls and fairies happy for hours.
There is a reasonable amount of character development that helps drive the series and also makes the fan keep coming back for more.
Overall Grade:
If it had not been for the sugar sweet content I would have really loved the concept. With the search for a twinkle being the charge for the young fairies it was easy to provide plenty of active content and fluid episodes.
The animation is very reminiscent of the anime from early 2001 / 02. That have soft edges and plenty of pastels. I found the imagery very pleasing and at the same time nostalgic. I am glad yo see it come back to provide a softer easier side of anime to a new generation that is being indoctrinated by giants who eat people and slashers who kill just to kill. I realize that life is tough, but there is no reason to latch onto a slasher mentality and loose sight of the kinder side of life. A Little Snow Fairy Sugar is sweet and kind, maybe a little too much so, but it is still worth remembering. Thank you Sentai Filmworks for making sure it stays alive.