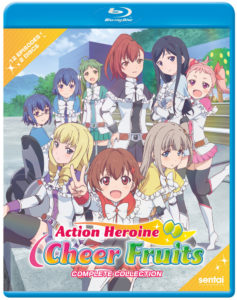 Title: Action Heroine Cheer Fruits
U. S. Distributor: Sentai Filmworks
U. S. Release Date: Sept. 11th, 2018
Format: Blu-ray / 12 Episodes / 300 Minutes
Genre: Highschool light drama
Age Rating: TV 14
Overall Personal Rating: B
Synopsis:
Cities have developed groups to represent them in action plays staring heroine characters. When Hinano City is about to loose its community auditorium from debt and declining use, Misaki ( a relative of the city leader) comes up with a plan to form a heroine group to stir up local enthusiasm. Through several means, a group of 9 is formed. They begin to perform, taking on a characteristic fruit theme that stems from the local regions lemon production. The performances amp up to include outrageous special effects and costumes. As popularity grows for their shows and more people watch the online videos, they find their group is climbing in the rankings on a national Action Heroine Project website.
Each girl approaches the group and their building friendships through a filter of their own lives and experiences. When one falters, the rest are there to encourage and cheer them on. Each finds her way to become more confident and work through her insecurities. It sure helps to know, that the others always see them in a better light and believe in them.
Commentary:
After the last anime I watched, which never drew me in with characters I could care anything about, this one had me interested in their lives from the first episode. This way it sure is a lot more fun, like visiting friends. The girl's interactions and their back stories made them interesting.
The enthusiastic, "we can do it as a team" idea is very common in anime, but it still felt fresh enough to enjoy. In Cheer Fruits, some of the stuff seems so impossible and unbelievable (like special effects explosions), but it is tempered with the amateurish high school ideas (like all the fruit admiration and metaphors).
The animation was okay, relied a bit too much on panning still shots and other short cuts, as if they were in a production hurry. However, with the images so upbeat, colorful and fun, I really didn't mind the weaker animation.
The title, although accurately describing the show, is doesn't flow well and I am concerned that it will put people off. This happened to other series like Tiger and Bunny or Log Horizon. Good series, but with so much to watch, the tittle doesn't pique very many peoples interest.
This really was a fun, happy anime. It is appropriate for almost everyone who is looking for a happy watch. I wish it was dubbed so a younger audience would enjoy it as well.
Overall Grade: B  Even though it wasnt up to the same level of animation quality, for people who like Love Live! or Tamakos Market,  I think you would enjoy Action Heroine Cheer Fruits.