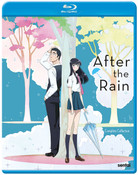 Title: After the Rain
Director: Ayumu Watanabe
Original work written by: Jun Mayuzuki
U. S. Distributor: Sentai
U. S. Release Date: June 30, 2020
Format: Blu-ray / 12 Episodes / 300 Minutes
Genre: Romance
Age Rating: TV 14
Overall Personal Rating: A-
Synopsis:
Akira Tachibana works part time at a diner while she attends high school. She used to run on the track team but after an injury and surgery, she has quit for good. She had natural talent and was one of the best. Tachibana's friend and teammate had really admired her and has been trying to provoke her to start running again.
Tachibana's focus is no longer at school, it is her job. What really draws her there is that she has a huge crush on Masami Kondou, the manager of the diner. She is in love with him. However, he is more than twice her age, something that would be difficult in their community. Still, she can't let go of her feelings and goes about trying to get to know him, what is his life outside of work, what are the things he enjoys and how can she be part of that.
What does her boss think of her attention? He is resistant, nervous and a bit flattered. He doesn't see why she could possibly like him but he is also too nice to just shut her down. Besides, her attention is encouraging him to get back to who he was before his divorce and life got in the way of his desire to write.
Commentary:
I really enjoyed After the Rain, but it is hard to figure out why and put it into words. I wouldn't say it's quite a romance, I characterize it as a more realistic slice of life than a lot of the contemporary anime that I see come over.
The series starts focused on the teen Tachibana, a story on the surface about her serious crush on her boss. As her story starts to be revealed, she is so close to being an adult that she is looking for different things than what school held for her. She's ready to move on, but the past still has some pull on her.
As they begin to connect, the focus of the anime shifts to Kondou. In his 40's, just working and being responsible, but with one interest, books. He really likes reading. Tachibana's attention and conversations have sparked energy back into his world. He even connects with an old friend. For both of Tachibana and Kondou, are their friends going to hold them back or help them move forward. Can they be what is expected of them?
The animation isn't the "cute" style, but had its own look, leaning heavily toward realism. Which created the only criticism I have for this anime. The old teammate had eyes so big that they were disturbing, and a coworker had bizarre lips. These elements were strangely out of place. At least the other characters didn't seem to notice.
Who do I think would like it? Someone who likes romance with out all the drama or silliness. If you liked Ristorante Paradiso or Natsuyuki Rendezvous, this could be another one for you to enjoy.
I would be curious to read the manga to see how it compares and if there is more content. But I would not like to see a second season. I really like that After the Rain is a complete story in 12 episodes, just like when you read a book. It's complete from beginning and has an ending. Not everything needs to be drawn out.
Overall Grading: A-