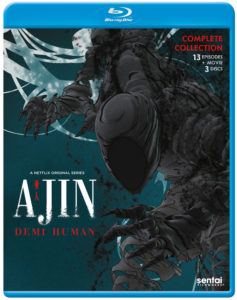 Title: Ajin on Blu-ray
Director: Hiroyuki Seshita, Hiroaki Andō
Writer: Hiroshi Seko
Studio: Polygon Pictures
U. S. Distributor: Sentai Filmworks, Section 23
U. S. Release Date: May 16th, 2017
Format: Blu-ray / 13 Episode + Movie / 325 Minutes
Genre: Horror, Action, Adventure, Thriller, Supernatural
Age Rating: TV MA
Overall Personal Rating: B-
Synopsis:
When the truck slammed into Kei Nagai's body, he should have died instantly. Instead, the high-school student finds himself resurrected, with all of his wounds somehow healed. However, Kei's real problems are just starting. Now revealed to be an Ajin, one of a mysterious new breed of demi-human that have begun appearing around the world, he's been marked with an international bounty, and in the eyes of the world's governments, Kei is a specimen to be contained by any means possible.
Now he's on the run, unable to trust anyone except his closest friend, and his only hope is to discover the terrifying secrets behind his new abilities before he's forced to use them in battle! When you have an infinite number of lives ahead of you, death is only the beginning!
Commentary:
Well, well. Ajin manages to do something I wasn't sure could be done in the current anime world. It manages to take a interesting story and animate it to almost a sad boring place. Polygon Pictures does a very poor job of animating this series and takes a solid story and almost makes it unwatchable. Fortunately that is where the failures end. The rest of the series is strong enough to give people a reason to watch. I am saying this even though this type of stress has been taken on in other series. Will Kei use his power to harm humans or not? Now I understand it is very common to see this issue in other anime and many of them did a much better job of presenting it. I think it is also very poignant that the real horror is produced by humans and that the Ajin are taught to hate the humans because of it, but of course there are plenty Ajin that are just down right evil.
Overall Grade: B-
Ajin may have found some notoriety by being an exclusive on one of the more notable streaming services, but I think it is great that the first half of the series along with a movie are presented as a set that could have a place in almost any anime collection. I realize that the animation is terrible and it appears as though Polygon still has some work to do with their use of their Computer Graphics program. I am not too sure that some students were given their first shot at animating this one. I realize that Polygon animated Knights of Sidonia and there were some issues with the quality of animation, but the art style and tone of Knights of Sidonia lent itself to this raw CG whereas Ajin really doesn't.
The rest of the production and writing of Ajin save it and make it worth watching. The story is relatively straight forward, but once again there is enough interesting action and flavor to keep everyone interested.
Even with the poor animation I am still very interested in seeing the remainder of the series released.