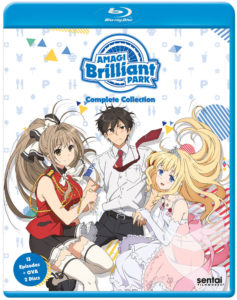 Title: Amagi Brilliant Park: Complete Collection on Blu-ray
Director: Yasuhiro Takemoto
Studio: Kyoto Animation
U. S. Distributor: Sentai Filmworks, Section 23
U. S. Release Date: February 28, 2017
Format: Blu-ray / 13 Episodes + 1 OVA / 350 Minutes
Genre: Comedy, Romantic Comedy
Age Rating : TV 14
Overall Personal Rating: B+
Synopsis:
When new transfer student Isuzu asks Seiya Kanie out on a date at gunpoint, he knows something odd is going on. Especially since she wants to go to Amagi Brilliant Park, where the rides are either dangerous or mind-numbingly dull and the only costumed performers who aren't rude or apathetic are the ones who didn't show up for work.
So when Isuzu asks Seiya to take over as the park's new manager, he knows she's crazy. (Well, crazy-er, given the gunpoint thing.) But when Seiya learns that Amagi Brilliant Park is a REAL Magic Kingdom, that the costumed performers aren't wearing costumes, that they live off the energy created by attendees, and that unless they can attract 250,000 attendees in three months, they'll lose their jobs and homes… he goes a little crazy himself.
But, even with the aid of scantily clad fairies, giant mice and sniper-trained sheep, can anyone rescue a park that's sunk so low that its own bus doesn't stop there anymore? The race is on to get the turnstiles turning and save AMAGI BRILLIANT PARK!
Commentary:
Reading the synopsis I was ready to dislike this series and within the first 10 minutes I was telling myself this just might be very good. Of course, I wasn't sure if it could sustain the simple enjoyment. After Amagi Brilliant Park gets over the initial weirdness it becomes a solid series with plenty of character development. There are a few characters that it takes some time to build out to their potential but each episode was able to move the story forward and help these odd characters begin to become a noticeable unit.
As for the romantic comedy aspect of the series I found that slower to develop. I also felt like Seiya comes across as too cold at first. I know that may have been necessary for the overall storyline but, it would have been nice to toss in some humanity to his character early on.
Overall Grade: B+
I loved the weirdness of Amagi Parks workforce and how they managed to deal with their odd predicament. I also loved the way the park represented more of the strange little amusement parks around the world. Not all of them can be the fake magical kingdoms that give everyone an overblown experience. I would love to attend a weird park like Amagi Brilliant Park.
The bottom line with Amagi Brilliant Park is that it is a lot of quirky fun and loaded with characters you want to like and some you would like to kick. The one thing I get a kick out of is when Isuzu pulls her guns, I had to stop and think about it for a while the after that every time I chuckled a little.
Amagi Brilliant Park is a worthy pick and I hope it finds a wide audience to have fun with it.