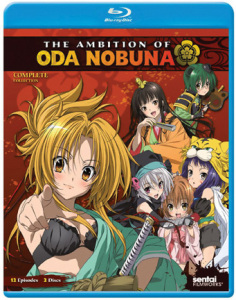 Title: Ambition of Oda Nobuna, The: The Complete Collection
Director: Yuuji Kumazawa
Studio: Madhouse
Author: Mikage Kasuga
U.S. Distributor: Sentai Filmworks, Section 23
U.S. Release Date: December 16, 2014
Format and Length: Blu-ray / 12 Episodes / 300 Minutes
Genre: Comedy, Romance, Historical, Harem
Industry Age Rating: 14 and up
Overall Personal Rating: B
Similar Series or Titles to Check Out: Battle Girls: Time Paradox and Sengoku Collection
Synopsis:
Yoshiharu Sagara, or Monkey as he is known to Oda Nobuna and her retainers, thought he knew his Japanese history backwards, forwards, and upside down, but when he inexplicably finds himself in the past everything he thought he knew was wrong and he is in a very different history altogether! Not only is this timeline's version of the legendary (and very male) Oda Nobunaga now the cute (and very female) Oda Nobuna, but one of the first things Yoshiharu manages to accidentally accomplish is getting one of the Sengoku era's most important historical figures killed!
Still, what's your best present course of action when you find yourself stuck in the past, having only a semi-reliable knowledge of one possible future, and there is now a vacancy in the history books? Aligning yourself with someone with the potential to become one of the most powerful warlords in any of Japan's possible histories might not be a bad start. Provided, of course, that you can keep yourself from becoming too intimately involved in the cloak and dagger action during a time when the cloaks cover body armor and the daggers are paired with multiple swords! But that is just part of the risk you assume when your history becomes her story! Will Yoshiharu make it back to his own time? Will Oda Nobuna conquer Japan? You will have to watch The Ambition of Oda Nobuna and find out!
Commentary:
The Ambition of Oda Nobuna: The Complete Collection has four main plot lines: The Arrival in the Sengoku Period Arc, The Invasion of Mino Arc, The Kyoto Arc, and The Retreat at Kanegasaki Arc. While The Ambition of Oda Nobuna: The Complete Collection may look like your typical rom-com harem, this time there is a story line and interesting characters to enjoy. Each story arc lasted around three episodes and was wrapped up in that time. The story line follows the history that we know of with slight changes made when Yoshiharu time-traveled to the Sengoku Period. However, that does not mean that you will know literally everything that is going to happen. You will still be pleasantly surprised and will enjoy the series.
The characters in The Ambition of Oda Nobuna: The Complete Collection are your typical rom-com harem characters but they were well developed and a few were absolutely adorable. Goemon Hachisuka has an adorable lisp and will likely steal your heart for the series. Toshiie Maeda is another adorable one as she always wears a lion costume. Both of these girls look very young, but do not let that fool you as they can take care of themselves just fine. Oda Nobuna is a girl that had a very hard life and it shows at times as she is leery of letting people into her heart because as soon as she does they leave her. She also has blonde hair in this series, which suits her character's personality perfectly. Oda Nobuna's retainers all have personalities that fit the historical character they are portraying well and they add entertainment to the story.
The art work is well done and the battle scenes look realistic. The characters were drawn well and the voice actors did a great job. The opening song was catchy and the closing animation is where all the fan-service was placed for the series. There really was not much besides that.
Extras:
The Ambition of Oda Nobuna: The Complete Collection includes clean opening and closing animations and Sentai Filmworks trailers as special features. This series was released with English and Japanese with English subtitles as language options. I recommend the Japanese with English subtitles for this release.
Overall Grade: B
The Ambition of Oda Nobuna: The Complete Collection is an interesting series and I recommend it if you enjoy history.