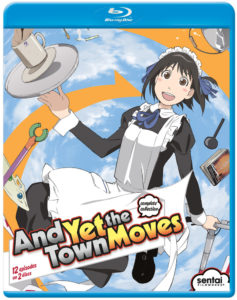 Title: And Yet the Town Moves: The Complete Series (on Blu-ray)
Director: Akiyuki Shinbo
Studio: Shaft
U. S. Distributor: Sentia Filmworks, Section 23
U. S. Release Date: June 21st, 2016
Format: DVD / 300 minutes / 12 episodes
Genre: Comedy, Slice of Life
Overall Personal Rating: B
Similar Titles: Lucky Star, The Melancholy of Haruhi Suzumiya
Synopsis:
Hotori Arashiyama just might be one of the most awkward girls in town. She has difficulty making it to school on time, is very clumsy and is know for being rather delusional, but she does have a special ability to make those around realize how special life really is.
Hotori works in a local Maid Cafe, or should we say, almost Maid Cafe. One of her school friends, Toshiko, who is very smart with a slightly different way of looking at the world decides to join her and become a Maid in order to help turn the place into a true Maid Cafe. The owner of the Seaside Maid Cafe, Uki Isohata, has her own ideas of what she wants her cafe to be and stands back and watches while no matter what these girls try they always end up right back at the cafe as it is. This part of town only caters to the shop owners and now with Hotori working there her math teacher who has caught Hotori without permission form the school. He tries to use this opportunity to help teach her and maybe just maybe see her become more than just a slacker without focus.
There is also Hotori's child hood friend, Hiroyuki Sanda, who has a crush on Hotori and is the subject of affection by Toshiko. With the added inclusion of Futaba Kon the master plan of this simple series is in place. We follow the lives of these warm and funny high school students to see them interact in ways that we all wish we could have at that age. If life was always that strange and simple, what bliss it would be.
Commentary:
And Yet The Town Moves took a few episodes for it to get me warming up to it. At first it came across as just another slapstick comedy that had a very shallow plot. Once all the characters were assembled something very special began to happen. The development of their personalities bonded them in ways that were very unexpected and provided another almost heart warming edge to the series. I realize that comedies tend to try and give us the softer side of humanity but in the case of this small seaside town and these characters connection it gives us hope that people can really be this involved. Even the local cop has a special connection to these girls and especially Hotori and her inability to be serious.
Most of the episodes were self contained but they did have some continuity that provided the glue for the series. I am very glad that it was only 12 episodes because I'm not too sure that any more would have done any good. It said what it needed to and gave us that light hearted humor and that was all it needed to do. I was very glad that it ended the way it did because it left me with the sense that there is hope for these characters that translated over to a overall hope for all of us.
Overall Grade: B
When it come to slice of life anime many of them fall into a trap of either too goofy or too sappy. And the Town Yet Moves managed to maintain a reasonably good balance even though it did lean to the goofy side once or twice. I still thin it was a very good series and if you are into slice of life anime then you should find this one to be something worth checking out.
Some other fine slice of life series worth seeing are Lucky Star, The Melancholy of Haruhi Suzumiya and Arakawa Under the Bridge.