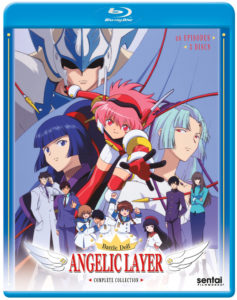 Title: Angelic Layer on Blu-ray
Director: Hiroshi Nishikiori
Studio: Bones
U. S. Distributor: Sentai Filmworks, Section 23
U. S. Release Date: Dec. 13, 2016
Format: Blu-ray / 650 Minutes / 26 Episodes
Genre: Sci Fi, Comedy, Action, Adventure
Age Rating: TV 13
Overall Personal Grade: B
Synopsis:
From the moment twelve-year-old Misaki Suzuhara first arrives in Tokyo to live with her aunt, she finds herself swept away by the amazing world of Angelic Layer – a fast-paced high-tech game where dolls called "Angels" are controlled by the thoughts of their operator, or "Deus."
Discovering that her new friends are as interested in Angelic Layer as she is, Misaki builds her own Angel, Hikaru, and begins competing in battles where will and determination count far more than size and strength.
The competitions are going to be fierce and, with the national championships looming on the horizon, you can bet that not everyone Misaki meets will be on her side. Can Misaki handle the pressure of non-stop competition while struggling to adapt to life in an unfamiliar city?
From the amazing minds and pens of Japan's legendary all-female creative team, CLAMP, it's the coming of age adventure that's become an all-time anime classic – ANGELIC LAYER!
Commentary:
The Japanese have long had a fascination with creating a doll and then using them to battle, there are many of the highly overrated trading card games. Angelic Layer grew out of the hype of the times and by the early 2000 there was a gap missing for the younger female audience. That is where Angelic Layer fits in. The story is strong enough to have 2 seasons and smart enough not to push it too far.
I like the way we are introduced to all of the characters. I found it interesting and obvious enough not to loose me from the very beginning. With the added humor tossed in it becomes a very likable series. I may not be the target audience, but it still managed to take hold and make me want to keep coming back for more.
Overall Grade: B
Even though the series is a little dated and the animation was clearly made for TV it is obvious that there was some care taken to provide a quality series. I believe that almost any 10 year old girl will fall involve with this story and want to become another Misaki. The thought of being small but still powerful is a great draw for anyone who see's themselves as somewhat of a n underdog.
I wish the writing would have been a little smarter, but with the age of the series it is strong enough to provide a clear path to follow. The animation is nothing to write home about and I am not too sure that Angelic Layer needed a Blu-ray edition. I do believe that it could use a re-release and this is clearly the right option at the right time.
Clamp is one of the most beloved writing team in the manga world and Angelic Layer is a solid story from them. If you need to find a series perfect for a younger audience the Angelic Layer is the one you want.