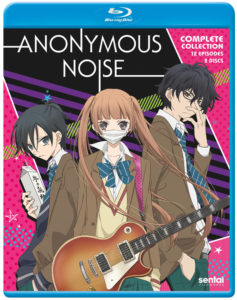 Title: Anonymous Noise
Director: Hideya Takahashi
Music by: Sadesper Record, NARASAKI / Watchman
Studio: Brain's Base
U. S. Distributor: Sentai Filmworks, Section 23
U. S. Release Date: June 5th, 2018
Format: Blu-ray / 12 Episodes / 300 Minutes
Genre: Shojo, Romance, Music
Age Rating: TV 14
Overall Personal Rating: B
Synopsis:
Six years ago Momo taught Nino the joy of singing from her heart. When Momo's family moved away without warning, Nino found herself lost and adrift. Until she met Yuzu, who also had a musical gift that he shared with her until he was suddenly gone as well, leaving nothing but the memory of his music. Before they disappeared, both Momo and Yuzu said the same thing- that Nino should keep singing, because that was how they'd find her again.
Now, as Nino starts high school, their paths are all about to cross again. But while Nino has kept singing and remembering how things were, Momo and Yuzu have changed. Now it may take a miracle to bring them back together when a triangle becomes more than a musical instrument.
Commentary:
True shojo anime is not really my bag but there always seems to be something about these anime that draws me in.  Anonymous Noise is one of those anime series that does a good job of keeping my attention and telling a somewhat simple story in a entertaining way. Granted, love triangles are typically one sided and Anonymous Noise leans that way and of all the issues I might have with the series this is the most petty issue I have. I know that people come to series like Anonymous Noise looking for this type of drama and honestly it is the one thing that makes me want to turn away. The thing about Anonymous Noise that kept me coming back was the underling story about the band and their rise and the difficulties they had based on members needs. Having grown up with musicians in my life I understood the trials and tribulations they had to go through even if their road to success was easy yet strange.
Even though I like the underling story, I realize that it was really all about the romance and love triangle and can easily see why anyone would be attracted to it.
Overall Grade: B
I wish I could say that Anonymous Noise hit a home run, but in reality it didn't. Expecting some hard hitting music with some love triangle drama ended up being a setup for disappointment. I loved the basic story, but fund the music to be overly simplistic and the love or romance of the story to be forced at times. With all of that being said I did enjoy the dynamics between everyone and appreciated the overall writing. If you love Shojo anime and are looking for a solid story with a melodramatic love story intertwined them Anonymous Noise is just the ticket.