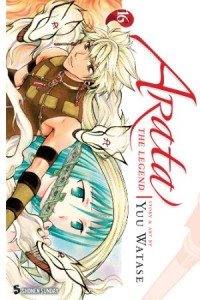 Review written by CEVS
Title: Arata: The Legend volume 16
Author: Yuu Watase
Distributor: Viz Media/ Shone. Sunday
American release date: December 10th, 2013
Format: Traditional Manga
Genre: Action, Shonen
Publisher Age Rating: T ( for teen)
Review Rating: C
How do you fight something you cannot see?
Synopsis:
Arata and his companions are now ready to take on the six sho. His first opponent is Kikutsune. Before they can make him submit, Arata must defeat the five kagura, Kikutsune's musicians. Since the Sho have taken power, all instruments have been banned. Only the karuga's instruments, and the treasured "first" instruments exist.
As soon as Arata enters the town, they get a taste of the karuga's music. A drum beat fills the air, taking the hearing of all who hear it. Arata was listening to his iPod, so he wasn't effected, but the rest of his party was. When the drum beat stops, Arata hears another sound, a flute. He goes to the source to find a girl playing a homemade flute. She is able to restore the hearing of Arata's friends. She then takes them to an old woman who tells them about the "first" instruments. They have been scattered, and are all hidden in their own "dungeon". Arata and his friends have to collect the instruments before they can even think of challenging Kikutsune.
Commentary:
We're down to the final stretch. And I mean stretch. We now have to wait for Arata to find five instruments and defeat the karuga before he can even think about the first sho. I was looking forward to the first sho battle, so I can see how strong Arata has really become, but this new mission just seems redundant. I get why Yuu Watase is doing it, but I think this is going a little too far. Luckily, this only lasts this one volume, and by the end of it we're back on track.
I've always liked music, and I thought that fighting with music was kind of a cool concept. When it comes to manga however, I thought it was going to be a little too difficult to illustrate music in a way that wasn't confusing or cluttered the page. That wasn't the case here. Showing the characters holding or playing the instruments really helped get the point across that they were fighting with sound and not a physical weapon. I would've actually really enjoyed the battles if it wasn't for the fact that most of the protagonists ended up losing most of their clothing by the end of the battle. It was very distracting and made the whole thing almost feel like a joke.
The thing that I found most interesting was at the very end of the volume there was a couple of pages of original concept art for the different personifications of the weapons.  You really could get a good look at them,  which was kind of cool.
Overall grade: C
The series is far enough along that it needs to get a little more serious. However, I did enjoy some of the new fighting concepts in this volume.