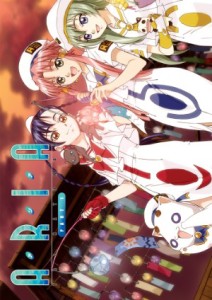 Aria The Natural Season 2 part 1
Director: Jun'ichi Sato
Studio: Hal Film Maker
U. S. Distributor: Nozumi / Right Stuf
U. S. Re-Release Date: Jan. 7th, 2014
Format: DVD / 13 Episode / 325 Minutes
Genre: Slice of Life, Sci Fi
Age Rating: 13+
Overall Personal Rating B+
Synopsis:
Akari, Aika and Alice are three girls who share a single dream: to become the most talented gondoliers in all of Neo-Venezia! Every day they train toward their goal, exploring all the wondrous sights that the water-covered planet Aqua has to offer. Whether it's spending a wild day at Carnevale, sharing a beautiful sunset, or even crossing paths with the mysterious spirits that dwell in Aqua's shadows, for these three friends, each day is a new adventure!
Commentary:
As season two of Aria begins the magic and wonderful presence of these young women jumps right out at you. Aria The Natural picks  up right the first season left off and  we still see three young ladies taking their jobs seriously and all have the goal of becoming the best gondolier. Even with that goal they still manage to remain young and keep  the thrill of discovery alive. The thing about Aria The Natural is that it stands a  beacon for anyone who has a long term life goal. Aria is not a jump up and scream action series or a leave you crying story, but rather one of those single slice of life / coming to age series that is simple and straight forward. I gives us characters that are easy to connect with and very sweet in nature. They have no crosses to bear or a score to settle, they only have their lives to live and to stay focused in their goal. Of course Aria may come across as being very simple and doesn't always hold your attention, but for me that is part of the charm. 
The animation may not be overtly slick and for this series it fits well. For Aria The Natural the looks are important and the easy stylings are friendly and inviting. That is very important and also very important to the series as it progresses. The voice acting also plays into the series easy charm and all of the characters are given a chance to be themselves without feeling forced or heavy handed. The production of this series is well balanced and perfect for what it is.
Overall Grade: B+
Aria The Natural part 1 is something that needs to be given a chance. I understand that for many anime fans it is the series that have high impact, action or even hard hitting drama , but i think that Aria is a great example of a quiet series that has plenty to offer. Trust me on this, I believe you will walk away understand the magic that this series has to offer. Don't be afraid to give this series a chance, I have a feeling that you will find it a great little get away.