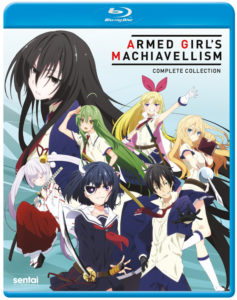 Title: Armed Girls Machiavellism: Complete Collection
Director: Hideki Tachibana
Studio: Silver Link
U. S. Distributor: Sentai Filmworks, Section 23
U. S. Release Date: Aug. 21st, 2018
Format: Blu-ray / 13 Episodes / 325 Minutes
Genre: Harem, Comedy, Action
Age Rating: TV 14
Overall Personal Rating: B-
Synopsis: 
When Aichi Coexistence Academy converted from all-girls to a coed model, the female students were so concerned about male misbehavior that they armed themselves! Now the school is ruled by the lovely but lethal Supreme Five Swords, and the boys are forced to dress and act like girls or suffer the razor sharp points of the Swords' anger.
Unfortunately for the Swords, new transfer student Fudo Nomura thinks that sounds like a total drag, and he might just have the martial arts chops and rapier wit needed to slash through the Swords' defenses and carve a new niche for himself in their feisty feminine hearts! It's a whole new kind of slice of life High School Drama, extra heavy on the "slice", as one Bad Boy meets some very Dicey Girls!
Commentary:
As time rolls on, and we often see things that go around come back around, another somewhat questionable harem anime is about to release.  Armed Girls Machiavellism: Complete Collection is aimed to provide the typical bad boy who ends up getting all the powerful girls to fall hopelessly in love with him. Of course, he doesn't really care too much about their affection but sure does know how to use it is his favor.
Nomura is basically to ideal bad boy who refuses to follow rules and seems to only know how to fight. He also happens to be a incurable romantic who feels like he will do whatever he must to control the moral high ground. The five swords appear to be girls who want to be in charge, but secretly need a strong man in their life. Lets not forget the "Empress", who must have something special going on.
Overall Grade: B-
In the world of action harem anime Armed Girls Machiavellism: Complete Collection is just fine. It hits all the high points a high school battle harem should hit, but doesn't manage to provide the character development that makes the viewer want to like the characters. In short this anime series is long on fan service and short on substance.
Armed Girls Machiavellism: Complete Collection provides plenty of action and many of the fights are layered with a sexual tension most anime fans will expect. There is even a nude bath battle that is both expected and somewhat anticlimactic.
I think that if there had been more work on making the characters likable and a deeper understanding of their background Armed Girls Machiavellism: Complete Collection could have been a real hit.
For fans of harems and high school battle anime, Armed Girls Machiavellism: Complete Collection, is a must see. For everyone else, I think there is some reasonable humor and action to keep you entertained and maybe bring a smile to your face.