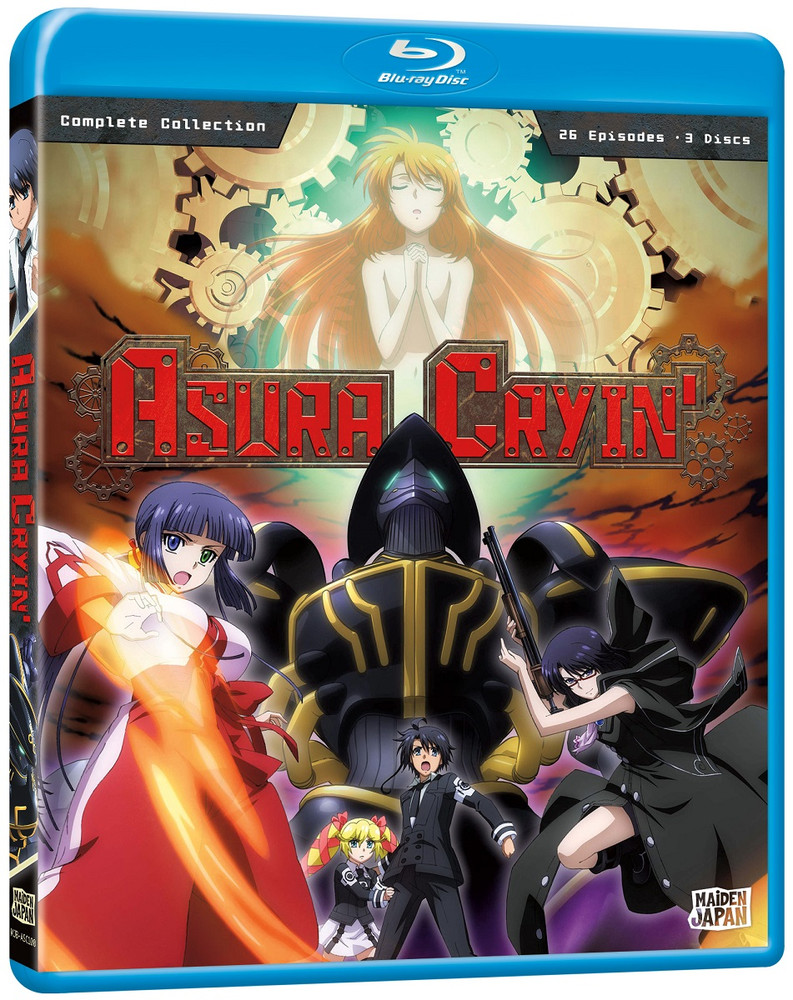 Title: Asura Cryin' Complete Collection on blu-ray
Director: Keizō Kusakawa
Writer: Katsuhiko Koide
Studio: Seven Arcs
U. S. Distributor: Maiden Japan, Section 23
U. S. Release Date: July 17th, 2019
Format: Blu-ray / 26 Episodes / 650 Minutes
Genre: Mecha, Fantasy, Supernatural
Age Rating: TV 14
Overall Personal Rating: B+
Synopsis:
Some people are haunted by memories, but Tomoharu is haunted by his friend Misao, who died in a horrible plane crash that Tomo somehow survived. While having a girl that no one else can see hanging around is a little odd, it's not until Tomo's mom gets remarried, leaving Tomo alone, that things get really weird: A mysterious girl appears with a package that Tomo is supposed to guard. A second girl breaks into the house, demanding something called an "extractor". And both girls can inexplicably see Misao! As more people target the package and Tomo, the mystery only deepens. What's in the package, why are so many people after it, and is it connected to the plane crash or something even more sinister? The shocking answers will be unleashed!
Commentary:
If you consider that Asura Cryin' was first released in 2009 you will understand the odd mix of CG and hand worked animation. Even though I was never a huge fan of early CG I have to say that I didn't really mind it here. The overall look was good and has stood up to 10 years of overall progress in the anime world.
The story starts out rather fun and a little confusing, but quickly settles into a rather standard harem sci fi story line. It is not until we reach the last group of episodes that the story really comes together.
There are plenty of exciting moments and some rather confusing ones too. The real strength of the series comes in the characters and their relationships. This look like there should be some obvious winners and losers here but anime tends to toss a few twists in from time to time and Asura Cryin' is no different.
Overall Grade: B+
Overall Asura Cryin' is a solid harem with a somewhat questionable sci fi/ fantasy mixed together. I thought thing progressed somewhat slowly from episode 7 to 18 and then picked back up for the reminder of the series. I also felt like they rushed the ending which made for a slight letdown.
All in all I did like Asura Cryin' and do think it would be a great addition to those harem / sci fi / fantasy lovers. I also want to thank Maiden Japan to continuing to give us series that are well worth the viewing that may have been missed in the past.