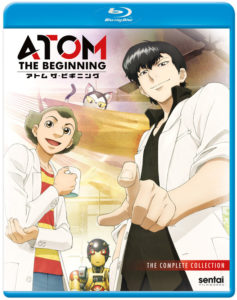 Title: Atom the Beginning on Blu-ray
Director: Katsuyuki Motohiro
Studio: OLM, Production I.G, Signal.MD
U. S. Distributor: Sentai Filmworks, Section 23
U. S. Release Date: May 1st, 2018
Format: Blu-ray / 12 Episodes / 300 Minutes
Genre: Sci Fi, Action
Age Rating: TV 14
Overall Personal Rating: A-
Synopsis:
Atom the Beginning contains episodes 1-12 of the anime series directed by Katsuyuki Motohiro.
In the aftermath of the Great Catastrophe, grad students Hiroshi Ochanomizo and Ummataro Tenma are working at the forefront of the exciting new field of super-robot development. Creating the next level of technology isn't cheap, however, and not only do the guys have to take on side jobs to keep their research going, they also have to contend with both jealous rivals and sinister organizations who want their secrets. Fortunately, our heroes also have an ace in the hole: their latest prototype, A106, who may just be the smartest, most powerful robot yet, and might even possibly be ATOM – THE BEGINNING!
Commentary:
Atom the Beginning is a prequel to Osamu Tezuka's Astro Boy manga/anime series, depicting the events up until the birth of Astro Boy. Atom the Beginning may be a homage to Astro Boy but I found it to be better in almost every way. The writing is better, the animation is superb and the overall production quality proves that the new generation has a greater feel for this art form.
Of course there is some silliness in Atom the Beginning, but I didn't seem to mind . It was the development and delivery of the story that made every moment worth while.
Overall Grade: A-
Before I sat down and began to watch Atom the Beginning, I was very concerned that trying to connect it to Tezuka would blind their own vision. The only other time I have seen a winning attempt to honoring Tezuka was in Urasawa's Pluto. Which is also a reimagine of the Astro Boy story. Atom the Beginning didn't have to rewrite the story it just had to come up with a valid beginning and present it in a way that didn't fly in the face of the 65 year old series that stretched over 15 years.
I am impressed with Atom the Beginning and would tell everyone to forget that it relates to Astro Boy and look at it as a stand alone series. You will find it to be wonderfully told and crafted.