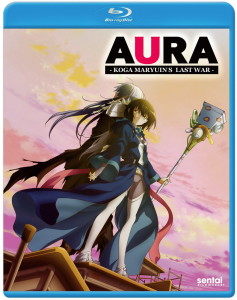 review provided by Katie and Andrew
Title: Aura-Koga Maryuin's Last War-
Director: Seji Kishi
Studio: AIC ASTA
Author: Makoto Uezu and Jun Kamagai
U.S. Distributor: Sentai Filmworks, Section 23
U.S. Release Date: December 8, 2015
Format and Length: Blu-ray / Movie / 90 minutes
Genre: Comedy, Drama, Romance, School Life, Supernatural
Industry Age Rating: 17 and up
Overall Personal Rating: A-
Similar Series or Titles to Check Out: The Garden of Words and Love, Chunibyo & Other Delusions!
The difference between reality and fantasy is that the monsters in the real world are more dangerous.
Synopsis:
Ichiro Sato used to spend his life dreaming, pretending to be a great fantasy hero. Pretend heroics, however, do not allow for much protection from bullies and social ridicule. Now determined to follow a different path and fit in, Ichiro thought he had managed to give up his old fantasies. Until he encountered Ryouko Satou, who is even more deeply immersed in her own imaginary world than Ichiro was – and is bullied just as cruelly for it. If he stands up for Ryouko, Ichiro could destroy the new life he is trying to build.
But at the same time, the intensity of her fantasies and predicament reminds him all too vividly of the person he once was. In the end, it may just be that the only one who can really rescue this damsel in distress is the dream hero that Ichiro thought he had buried forever in Aura. Will Ichiro save Ryouko? You will have to watch Aura-Koga Maryuin's Last War- to find out.
Commentary:
There comes a time in everyone's life that we tend to hate reality. Rather it be the monotony of everyday life, failed dreams, or even stress and being overwhelmed by life, we all turn to fiction as an escape. Some cases are much more extreme than others. Lately there have been a few series coming out addressing Chuunibyou (rough translation; middle school second year syndrome, a common stage of growth for most people in Japan, where fantasy is used to escape the reality of growing up). Aura-Koga Maryuin's Last War- is a movie that introduces us to a more mature look at what a victim of Chuunibyou suffers from, but everything plays out like a typical high school bullying story. There are not many twists and turns and everything can be seen coming from a mile away. However, the story still works well and is enjoyable. The drama in Aura-Koga Maryuin's Last War- falls perfectly in the center as everything feels natural. The angst and conflicts are perfectly and realistically presented and are not used as cheap means to manipulate our emotions. The drama is sincere, heartfelt, and heartbreaking at times. Aura-Koga Maryuin's Last War- shows the pain of bullying either as the recipient, Ryouko and Ichiro, or as a bystander observing the damage done, the rest of the class, and Aura-Koga Maryuin's Last War- shows that it is never a good thing.
The characters had a sense of realism in the way that they spoke that many will be able to relate to. The main characters, Ichiro and Ryouko, were very likeable and easy to sympathize with. In the short time the writers manage to develop the characters quite extensively, and it helps the story and the emotional attachments that you form with them. This does feed the interest as they developed the story, which in itself does not have many twists or unforeseeable turns to grab your interest. Without the awesome character development, I doubt that the story would have been as good as it was. From the first scene you are given a chance to see inside the mind of the male main character, as he lives out his fantasy he is highly ridiculed for. Bullying is an issue in Japan as Japanese society is highly conformist. "The nail that sticks out the most is hammered down the hardest." This gives a realistic look into what happens in Japan schools and why chuunibyou exists, and the issues around it.
Extras:
Aura-Koga Maryuin's Last War– includes Sentai Filmworks trailers as special features. This movie was released with both English and Japanese with English subtitles as language options. Both are enjoyable and I would recommend either one depending on your preference.
Overall Grade: A-
Aura-Koga Maryuin's Last War– gives new insight into the strange phenomenon known as chuunibyou. I recommend this movie to anyone who is wanting to see something more realistic.