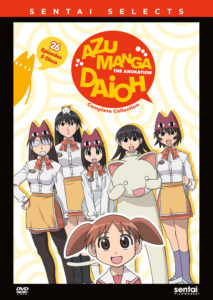 Title: Azumanga Daioh Complete Collection
Director: Hiroshi Nishikiori
Studio: J.C.Staff
U. S. Distributor: Sentai Filmworks, Section 23
U. S. Re-release Date: May 3rd, 2016
Format: DVD / 26 Episodes / 650 Minutes
Genre: Comedy, Absurdity, Slice of Life
Age Rating: TV 14
Overall Personal Rating: A-
Synopsis:
For the members of Miss Yukari's English Class, a typical day may be just a little unusual. Part of that's due to Miss Yukari herself, whose teaching style (and personal ethics) tend to be odd, improvisational and spontaneous, but her students are just as unconventional: There's 10-year-old Chiyo, still at the top of her class after skipping five grades, and her opposite Ayumu "Osaka" Kasuga, whose poor grades are surpassed only by her horrific skill at sports. Then there's Tomo, a competitive slacker who puts excessive energy into doing very little, and Koyomi, whose surprising maturity is compromised by a malevolent sense of humor. Tall, statuesque Sakaki's athletic exterior hides both unexpected shyness and a most unfortunate obsession with cats, while tiny Kaori's heart is mainly obsessed with Sakaki. They may all seem like perfectly normal girls on the outside, but even their most mundane activities magically become the most extraordinary adventures as they learn all about life, the universe and affairs of the heart in AZUMANGA DAIOH!
Commentary:
I was very happy to see that Sentai Filmworks was going to bring this gem back to life. The series as a whole is rather wonderful with its simple yet complex look on life and a rather perverted view of itself. I truly enjoy it for its rather absurd approach to the story and the silly character development.
The other aspect that I loved was the general happiness that ran throughout each episode. Azumanga Daioh is a older series that deserves to remain in the current lexicon on anime.
Overall Grade: A-
Okay, Anime fans lets set the record straight there are plenty of older anime series that should never get re-issued and plenty of series that should have never made their way over to North America. In the case of Azumanga Daioh neither of these are true. This series should have gotten picked up the day the original license was dropped. Thank you Sentai Filmworks for bringing this back to us. There is a whole new generation of anime fans that need to see this series just because it is great and a smile factory.
If you don't own this series you must go out and buy it now. You will not be appointed.