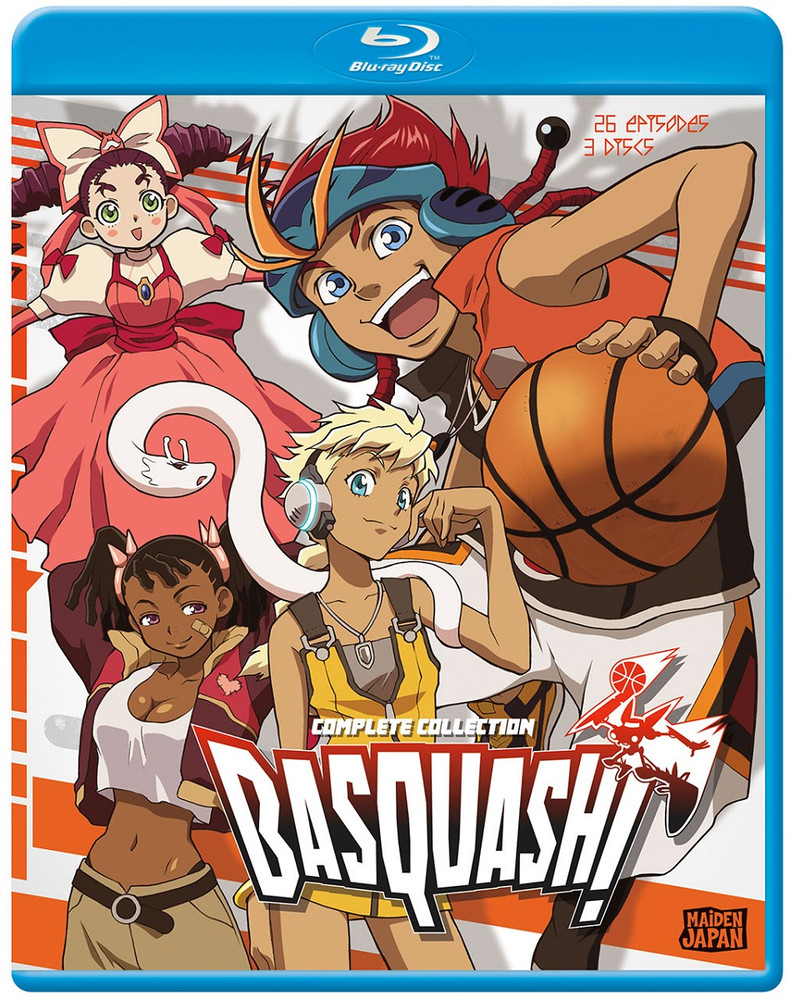 Title: Basquash!: Complete Collection on Blu-ray
Director: Shoji Kawamori (chief director), Shin Itagaki (episodes 01−15)
Eiichi Sato (episodes 16−26)
Writer: Tatsuo Sato
Studio: Satelight
U. S. Distributor: MAIDEN JAPAN, Section 23
U. S. Release Date: June 18th, 2019
Format: Blu-ray / 26 Episodes / 650 Minutes
Genre: Adventure, Mecha, Sports
Age Rating: B+
Synopsis:
On the planet Earthdash, the infrastructure is crumbling and everyone wants to escape to the technologically advanced lunar city of Mooneyes. Unfortunately for young Dan, who dreams of taking his disabled sister to the moon for medical treatment for her paralyzed legs, only their societies' most elite are allowed to leave the planet. Dan's big chance comes when he crashes a game of Bigfoot Basketball, which is played with giant robots, and accidentally revolutionizes the sport.
Taking the game to new heights of mayhem and destruction, he gains fame but not fortune or a trip to the moon. Instead, he'll have to fight his way to the top of a radically changed game while solving a mystery that could affect the future of the entire planet!
Commentary:
I am not going to mislead you and make you think I was looking to enjoy this series because I thought the concept was more than a little silly. As I watched the first few episodes I began to realize that there is a lot more here than a simple Mecha Basketball anime. In fact I found it to be something more than just a little entertaining. I found it to be filled with a rich cast of characters and some dramatic points that helped keep the series focused. I am not real sure how I feel about Dan, he is somewhat annoying and even though he is all about helping his sister that chip on his shoulder is more of a hinderance to his character than a help.
Overall Grade: B+
Maiden Japan sure does know how to pick some very special titles. Tokyo Magnitude 8.0 and Den-noh Coil are two surprising titles and now I have to add Basquash! to the list. The animation is very good and carries off a rather high production value along with the depth of story and characters. Of course the writing makes all of it come alive while the animation make the story easy to watch.
I never thought I would be recommending a Basketball Mecha anime to anyone and would have never thought I would have enjoyed it, but this is one strangely fun anime that I have to give the thumbs up on. Check out Basquash!, you just might find it worth your time.