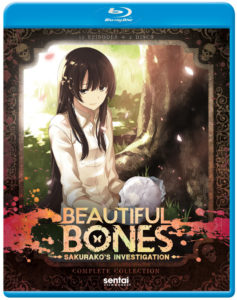 review provided by Andrew and Katie
Title: Beautiful Bones-Sakurako's Investigation: Complete Collection
Director: Makoto Katou
Studio: TROYCA
Author: Takayo Ikami
U.S. Distributor: Sentai Filmworks, Section 23
U.S. Release Date: January 10, 2017
Format and Length: Blu-ray / 12 Episodes / 300 Minutes
Genre: Drama, Mystery
Industry Age Rating: 17 and up
Overall Personal Rating: B
Similar Series or Titles to Check Out: The Perfect Insider, Heaven's Memo Pad
Synopsis:
Shotaro Tatewaki knows that Sakurako Kujo is not a normal person. After all, most young women have multiple interests revolving around things like work, fashion, and sports, but Sakurako is fixated on just one thing: bones.
While she already has a huge collection of them, mostly animal, she is always trying to gather more, especially those of the human variety. This can be quite a problem for Shotaro; especially since he and Sakurako have a positively unnatural aptitude for discovering dead bodies together.
Fortunately, Sakurako is a naturally brilliant detective who unearths the mystery of what happened to the owners of those bones, but it is up to Shotaro to make apologies for Sakurako's odd quirks and tendency to make off with the evidence.
It's a grave business that can leave him literally bone-tired, but for the wheels of justice to turn, there are always more skeletons to be bared and new secrets to be exhumed in Beautiful Bones-Sakurako's Investigation: Complete Collection.
Commentary:
Beautiful Bones-Sakurako's Investigation: Complete Collection is an interesting series as it was basically the anime version of a female Sherlock Holmes and her sidekick Dr. Watson. Sakurako seems to know everything and always has an answer for everything she sees. She also have a magical girl style transformation whenever the latex gloves come out, complete with the skeletons of many different creatures. It could be described as CSI meets Mahou Shoujo. It is very episodic in nature, and it actually seems like a slice-of-life series, and every one or two episodes presents a different and new mystery. Some of the mysteries were better than others but overall, they were complex and suspenseful. I really wish they would have finished the storyline that involved Hanabusa but there is always hope for a second season.
There was very little character development throughout the series until the last episode. In the last episode, we learn how Sakurako and Shotaro met each other and worked their first case together. It seemed completely out of place to have this episode at the end of the series because they did not wrap up the series and instead decided to focus on the background story that would have been better suited in a different episode.
The animation for Beautiful Bones-Sakurako's Investigation: Complete Collection was pretty and colorful and the background was true to life in the way the plants moved. The voice actors did an amazing job bringing the characters to life and it seems like they had fun making this series. The opening and closing animations were catchy and well animated.
Extras:
Beautiful Bones-Sakurako's Investigation: Complete Collection includes clean opening and closing animations and Sentai Filmworks trailers as special features. This series was released with Japanese with English subtitles as the only language option.
Overall Grade: B
All in all, if you like the mystery crime genre then I believe you will enjoy Beautiful Bones-Sakurako's Investigation: Complete Collection.