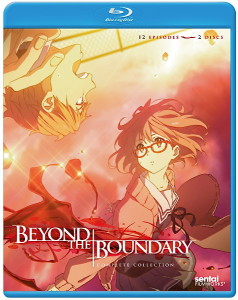 Title: Beyond the Boundary complete collection
Director: Taichi Ishidate
Studio: Kyoto Animation
Original Creator: Tomoyo Kamoi
Anime Writer: Jukki Hanada
U. S. Distributor: Sentai Filmworks, Section 23
U. S. Release Date: Oct. 13th, 2015
Format: Blu-ray / 12 Episodes / 300 Minutes
Genre: Fantasy, Supernatural, Drama, Romance
Age Rating: TV 14
Overall Personal Rating: A-
Synopsis:
They should never have met. They shouldn't even exist. But when they come together, the entire world will change.
The last surviving member of her clan, Mirai Kuriyama is cursed with the terrifying ability to control and manipulate blood, a power so heretical that she is shunned even by those with the ability to understand her "gift". Akihito Kanbara is only half human, but while the monstrous other half of his lineage seems to have doomed him to a life alone, it has also given him near invulnerability in the form of rapid healing. Alone, their futures seem bleak, but when a chance encounter brings them together, it becomes clear that they share more than just an unexpected bond. Together they share a destiny and a mission that only the two of them together may be strong enough to survive.
Commentary:
Beyond the Boundary is one of the more interesting supernatural show to come out this year. It has humor, drama and a solid romance on top of a rather compelling plot line. The most compelling aspect to the series is the love story that develops. It is slow and could go either way thought the series but as the viewer you are always wanting them to move closer. It leaves the mystery fresh enough to keep you watching.
The animation was super slick and unexpected. At first I was very worried that it was going to fall into the trap with the pinks and blues that No Game No Life did, but it leveled off and managed to have a wonderful blending of style and color to help accentuate the story line exceptionally well.
Overall Grade: A-
I found Beyond the Boundary to be a wonderful mix of supernatural and heart warming friendship and romance. The one area that I thought was lacking was character development. Understanding who and what all of these characters are is important to the series and to the most part we are given enough information to make the series understandable. I think that if there was more information about the main characters and even a few of the others that show up from time to time it would have made a big difference in who the series tied together.
As series go Beyond the Boundary reminds me of several series blended together and the mish-mash works  as a hole. If you are looking for a shorter series that has plenty of action and a wonderfully heart warming ending then you should check this series out.
Beyond the Boundary is a real winner!