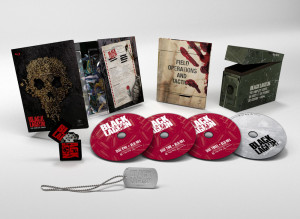 Title: Black Lagoon Complete Series + OVA Premium Edition Blu-ray
Director: Sunao Katabuchi
Studio: Madhouse
Music: Edison
U. S. Distributor: Funimation Entertainment
U. S. Release Date: November 17, 2015
Format: Blu-ray/ 29 Episodes / 600 Minutes
Genre: Drama, Action, Adventure, Crime Drama, Seinen
Age Rating: TV MA
Overall Personal Rating: A
Synopsis:
Take a twisted trip to the city of your nightmares in this hard-boiled shootout inspired by masters of action like John Woo and Quentin Tarantino!
Rokuro was an ordinary Japanese business man. A suit hired to entertain corporate high rollers and serve as a whipping boy for the big bosses with the real juice. A mission to deliver a mysterious disk to the deadly waters East of China seemed like his big break, but some things just weren't meant to be. A ruthless gang of mercenaries fronted by a gunslinging femme fatale in scandalously short shorts kidnapped Rokuro and held him for ransom. When his company refused to pay, he became their property. To survive, he was forced to reinvent himself as Rock, the brains behind the beauty and brawn of Black Lagoon: the most cutthroat crew of mercs ever to hustle the mean streets of Roanpur. A nightmare of a metropolis where the bad guys are really bad – and your friends might be even worse.
Contains episodes 1-12 of Black Lagoon, episodes 1-12 of Black Lagoon: The Second Barrage, and episodes 1-5 of the OVA, Black Lagoon: Roberta's Blood Trail.
Commentary:
Black Lagoon is an action packed seinen title often with dark and depressing undertones. Taking place in the fictional modern-day city of Roanapur, Thailand, the anime centers around the life of Rokuro "Rock" Okajima as he is attacked out at sea by some pirates and is taken hostage. After being with them when one thing after another goes wrong possibly due to Stockholm syndrome. If so, Rock never regrets it, although he continues to use words over fighting. The Lagoon Company, the pirate-mercenaries Rock works with, all are much more jaded and his unwillingness to fully embrace the ideals, or lack thereof, of the darkest of the underworld and pick up a gun causes tension, especially for Rebecca "Revy", the company's main fighter and one of the deadliest around.
Black Lagoon  is a great example of existentialism with a myriad of examples. None of the major characters are at all flat and most of the secondary characters like Mr. Chang all have twisted and distorted pasts. All of the ones revealed make Rock's past look kind of mild in comparison. The best two examples of this are third (episodes 8-10) and fifth (episodes 13-15) mini-arcs.
The third arc has the Lagoon Company transporting Garcia Lovelace for the Columbian mafia. En route to their destination, they discover there is more to the situation they weren't told. Garcia is convinced that he will be saved by his maid, Rosarita "Roberta" Cisneros, a unbeknownst former FARC guerilla trained in assassination known formerly known as "Hellhound". After Garcia saw Roberta in battle, he did not know what to think. However, as the arc went on her devotion to saving him and seeing her like that and comparing it to the happy memories of his past reminded him that he really cared for her, not a maid, but as family member. The arc ends on a happy note with Belilika, a former Soviet military officer who now works for the Russian mafia out of Hotel Moscow, helping out Garcia, Roberta and the Lagoon Company for Roberta's unexpected aid in helping the Russian mafia and a sense of owing the  Lagoon Company help for their past dealings.

 Roberta's Blood Trail is a continuation of this arc with the Lagoon Company thrown back into the mix trying to save Roberta from her own madness and Rock begins to become much more of the chess master which is a little out of character for him.
In contrast, the fifth arc does not have such a happy ending. It is about two twins, Hänsel and Gretel, who have dissociative identity disorder in which they can both reverse the role of  Hänsel and Gretel, but in such a way that those personalities are distinct from each other in both voice and mannerism. The twins were taped by the Russian mafia for guro pedophilic films and later were forced to kill other children in order to escape this kind of treatment. There is evidence to suggest they were based on the twins from Stephen King's The Shining. It's not known what gender either are, although it is implied that they are both females. In the anime they are hired by Verrocchio because of their ability to be overlooked. However after killing one of Belilika's men, they decide to dispose of them. Before that happens, the twins realize this and slaughter Verrocchino. However, Belilika, pissed at the death of her comrade, hunts the twins down. After splitting up, Gretel contracts the Lagoon Company to save her and befriends Rock, the only person other than her "brother" she felt comfortable with since she could remember, she is shot in the back from the contact they went to who was paid by Hotel Moscow.
These two arcs, along with the final arc (episodes 19-24), show that outside Rock, Belilika is possibly the most complex character. Unlike Rock, she does not put her feelings above business and getting the job done, but also seems to have a side who would still like to see things have a happy ending when it doesn't cause her problems. In the case of the twins, the death of her comrade by some of the most torturous means imaginable was too much as she considered all of her military comrades as family. This is also why she probably goes out of her way to find a reason to help Garcia and Roberta and praises Garcia for the way he acts in the end.
Overall Grade: A
Black Lagoon works on many levels. On the surface it is just another action anime with some comedic elements to break up the often bloody and intense atmosphere and could easily be mistaken for that just seeing one episode. However, the series really deals with the human condition and what would make someone turn their back on a normal life and seek a life in the underworld of crime. For Revy, that answer is simple; she never had a good life to begin with; Revy's past was seen to be the worst for much of the series having never had a good life living in a crime filled neighborhood where she had to kill just to live. However, the fifth arc showed that there is always someone worse off.  For Rock, his life was going just fine, but when confronted with the choice he wanted the life of freedom. In spite of his weak-willed personality, he really enjoys the intense moments to the point that their boss, Dutch, fears the consequences should he really be pushed that far; instead he prefers him to work as the accountant and negotiator.
The series constantly has Revy and Rock arguing about idealism in this world. For Rock he wants to hold on to it because of his past and for Revy she never had it because of her past. She is constantly berating him for putting his morales first and causing him, and by extension her and the Lagoon Company, trouble. In the final arc he is confronted by another who also berates him for living within the twilight ― not wanting to live a normal life in Japan, but not wanting to fully embrace the life of the underworld and crime.
More than that though the series plays upon the general themes seen in such epics Paradise Lost by John Milton. In this all of the characters start out with great dreams and ideals hoping to make the world better or even just their family happy. However, each one is tempted after some incident and falls from grace to the underworld of crime or the like. Unlike the poem though, it wasn't some incarnation of evil itself that caused these people to fall; instead, it was the betrayal of other humans they knew personally or the general abandonment by the rest of humanity as trash. Even then, they still long for their ideals; however, their eyes are opened and they knew ideals will never come to pass. Sometimes, like with Roberta, they could find a new ideal to live for, but for others, like the twins, it was too late.
In the end the only thing I am disapointed about the series is that it did not explore Rock's persoanlity enough. Outside the first arc, he wasn't really pushed to the edge and his ability as a skilled negotiator capable of resolving disputes without the need for bloodshed was only hinted at. As mentioned before, Rock still is one of the more idealistic members in the series and it seems clear he has not reached the level where he comfortable with what he's become (and not criticizing those around him) while still maintaining his ideals.
If you enjoy hard hitting series and have not been introduced to one of the more thoughtful existentialist series then you need to check it out. It is a great reminder that if violence is needed then the story needs to say something other than kill, kill, kill and hey don't forget we are humans. Black Lagoon shows us how easy it would be to turn someone into a heartless killer and how we are not as wonderful a species as we might think.