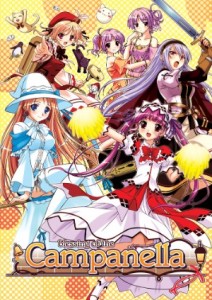 Title: Blessing of the Campanella DVD Collection
Director: Shinji Ushiro
Writers: Koujirou Nakamaura and Saharu Amiyami
Studio: AIC
U. S. Distributor: Lucky Penny / Nozomi
U. S. Release Date: Feb. 4th, 2014
Format: DVD / 12 Episodes and 1 OVA / 300 Minutes
Genre: Harem, Romance, Magical Girls
Age Rating: 17+
Overall Personal Rating: B
Synopsis:
Leicester Maycraft leads a charmed life. His parents are nobility and he spends his days crafting inventions and questing alongside his friends in Clan Oasis. It also doesn't hurt that every pretty girl in town is in love with him, including the Duke's daughter, Carina Verriti. Life couldn't possibly get any better. Until it does.
Energy from a supernatural meteor shower awakens the adorable automaton, Minette, who imprints on Leicester as her "papa". Just like that, Leicester's entourage of beautiful girls goes from flattering to ridiculous. Joined by Sacred Knight Chelsea Arcot and automaton artisan Agnes Boulange, Clan Oasis sets out to discover Minette's origin.
But all work and no play isn't exactly what these adventurers have in mind. They'll get around to solving the mystery – when they're not performing oddball quests or hanging out at the beach!
Commentary:
There are plenty of anime that started out as dating sims or visual novels and in the case of Blessings of the Campanella there is a big change from the game to the series. This light hearted story has some very adult topics or should I say story lines running through. The heaviest of which is the sexual over and undertones. It is a happy world that makes itself very appealing, but the visual approach of the series would be better suited for the younger female set rather than the indented audience of the 17+ male group. I guess that there are still plenty of guys that will enjoy this simple little harem series where the guy is quiet and the women / girls are all very attracted to him. At least he is able to have some normal guy thoughts rather than being oblivious to what going on around him. Even though the setting is not the same it gives more of an Ai Yori Aoshi approach to the harem where the main male characters really cares about one female. In this case we have Leicester who seems to be most attracted to just one of the young women, but he still is smart enough to let the other think he is up for grabs.
It is very possible that the game is more open to changing things around, in the anime I like it when there is less ambiguity in the lead male character. Blessing of the Campanella is a simple little series that makes you smile because it really doesn't seem to have a bad bone in it. My only drawback is that because of the nudity it manages to shut out an entire segment of viewers that would probably love this series. That group is the 10 to 15 female age group. I would almost recommend remaking this just for that group.
Overall Grade: B
I enjoyed Blessing of the Campanella for the happy almost blissful stories that flowed and the peaceful animation style that went with it. Being an older man who doesn't care for much nudity I had to see this aspect of the series as a failing, but I'm sure that the prospective focus group will really enjoy it for what it is. I didn't find overly disturbing about the series and at the same time can't say that I found anything really engaging about it either. It is a fun light series that most adults will find pleasing in a simplistic kind of way. Please don't expect any deep plot lines or philosophical viewpoints here, this one is all about the relationships and how they all get along. So, if you are looking for a less graphic anime version of a dating sims and just want to be entertained then Blessing of the Campanella will be a great fit for you.