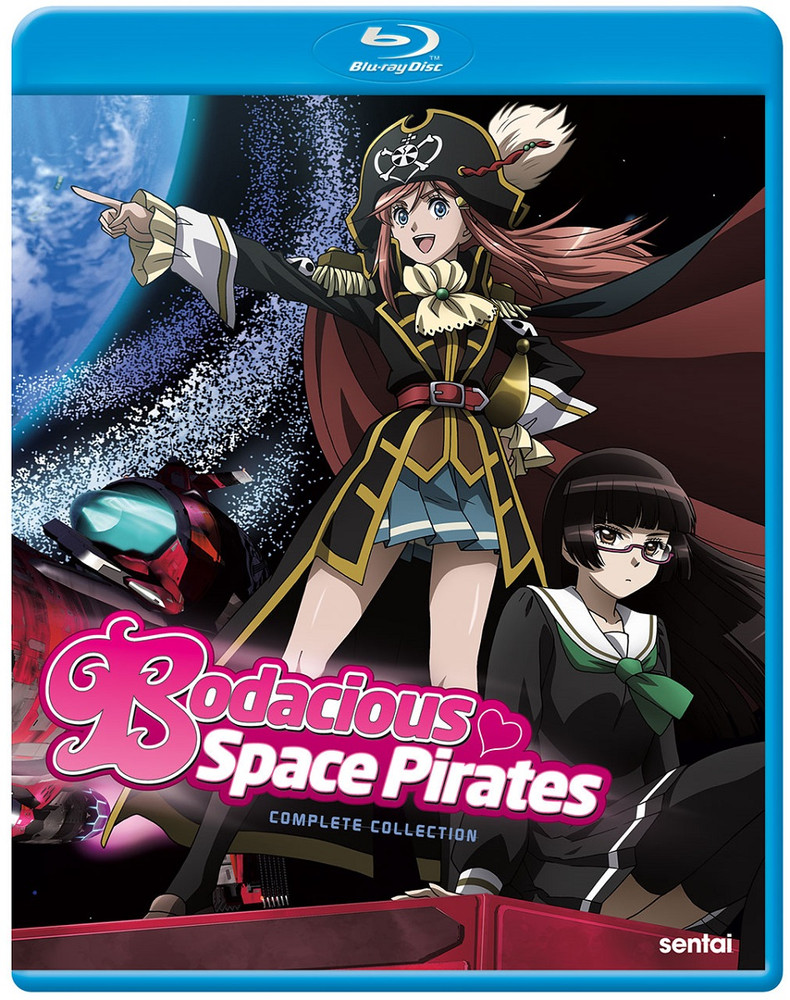 Title: Bodacious Space Pirates Complete Collection
Director: Tatsuo Sato
Studio: Satelight
U. S. Distributor: Sentai Filmworks, Section 23
U. S. Re-Release Date: September 15th, 2020
Format: Blu-ray / 26 Episodes / 650 Minutes
Genre: Girl Power, Sci Fi, Fantacy
Age Rating: TV 14+
Overall Personal Rating: B+
Synopsis:
When Marika Kato learns that her late father was the captain of a pirate ship, it's the second biggest surprise of her life. The biggest? Learning that his crew needs her to take over her father's old job due to the terms of their Privateer's contract!
It looks like joining her school's yacht club is certainly about to pay off for Marika, because who wants to go into space piracy without a bunch of friends their own age to keep it fun? Toss in some outer space rivals, princesses in peril, and a pirate crew pulling double duty as high school teachers, and the next voyage of the good ship Benten Maru is going to be one of the wildest adventures ever! Batten down the hatches and prepare to kick some booty!
Commentary:
Bodacious Space Pirates is one of those many overlooked anime that just might have found a new lease on life. I thoroughly enjoyed the first time I reviewed it back in 2013 and still found it fun and representative of the way that anime manages to empower young women in a consistant manor.
The story is fun because of the way that it approaches the future and how entertainment has changed and how it blends historical events and futuristic visions.
Overall Rating: B+
Bodacious Space Pirates is well produced and the voice acting is well directed. The one weakness is the writing and the fact that there is a unnecessary love interest blended in in the middle of the series. I found it distracting and somewhat pointless.
For me the real strength of Bodacious Space Pirates is the way that it treates these young women and allows them to show that they too can be smart and able to navigate a world that would love to see them fail.
If you haven't seen Bodacious Space Pirates then you really should check it out and if you are a young lady looking for an anime that will show that you too have a mind and can take on even the most jaded experience adults. Plus it is just a lot of fun without the heavy handed blood fest that all too many anime think they need to be just to be concidered good.