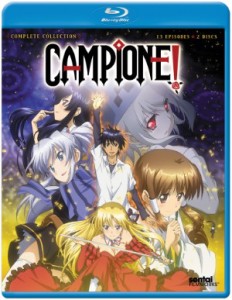 Title: Campione: Complete Collection on Blu-ray
Director: Keizo Kusakawa
Studio: Diomeda
U. S. Distributor: Sentai Filmworks / Section 23
U. S. Release Date: Oct. 15th, 2013
Format: Blu-ray / 13 Episodes / 325 minutes
Genre: Fantasy, Harem, Comedy, Action, Adventure
Age Rating: TV MA
Overall Grade: B+
Synopsis:
Some people suddenly find religion, but for 16-year-old Kusanagi Godo, it's that REALLY old time religion that's found him! As the result of defeating the God of War in mortal combat, Godo's stuck with the unwanted position of Campione, or God Slayer, whose duty is to fight Herectical Gods whenever they try to muscle in on the local turf.
Not only is this likely to make Godo roadkill on the Highway to Heaven, it's also a job that comes with a lot of other problems. Like how to deal with the fact that his "enhanced status" is attracting a bevy of overly worshippy female followers. After all, they're just there to aid him in his demi-godly duties, right? So why is it that their leader, the demonically manipulative sword-mistress Erica Brandelli, seems to have such a devilish interest in encouraging some VERY unorthodox activities?
Commentary:
Campione blends several different genre into a harem anime. It starts off with what could be a simple fantasy into something and turns into a rather fun romance with plenty of action. The harem and romance ends up being less important than the action and the solid plot devices used. The thought of someone becoming a God Slayer is rather interesting in of itself, but to have them gain power by slaying those Gods adds another layer of intrigue to the story. There is also the way that in which the Gods are defeated that makes the battles worth while. They do not loose just because of sheer determination or power, but rather knowledge of who and what they really are. I can honestly say that the way Kusinagi Godo ends up gaining the knowledge he needs is rather silly, but it manages to tie in much of the fan service and makes the harem aspect of the story seem more plausible.
The writing for the series is interesting enough to keep you moving through the story and hold your attention. The animation is above par and really does help accentuate the series by making rich and full of life. Each character is appealing in their own right and even the reluctant hero doesn't come across to wimpy.  With such a strong production values and character development along with some rather interesting plot devices Campione comes together rather nicely.
Overall Grade: B+
There is plenty of good stuff going on in Campione, but the one area that I found to fall apart a little was the way in which the story developed. It moved rather quickly which isn't alway bad. For Campione the speed of development detracted from from the series ability to get properly tell the story. Early on I felt left out and as we get further into the story I would have loved to had more explanation of the world that these people come from. Unfortunately, we never really get a full disclosure and in the end we are left wanting much more than I would like. With that said, Campione is still a fun and exciting series that give us plenty to think about and to enjoy. So, if you like anime with a goofy historical bent and a harem that doesn't mind swaoing spit then you will really enjoy this one.