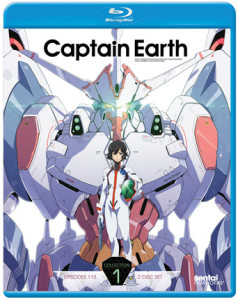 Title: Captain Earth Collection 1
Director: Takuya Igarashi
Writer: Yoji Enokido
Studio: Bones
U. S. Distributor: Sentai Film Works, Section 23
U. S. Release Date: June 16th, 2015
Format: Blu-ray / 325 Minutes / 13 Episodes
Genre: Mecha, Sci Fi, Romance
Age Rating: TV 14
Overall Personal Rating: B+
Synopsis:
When Daichi Manatsu sees a mysterious rainbow appearing near the Tanegashima Space Center, he immediately recognizes it as being similar to an apparition that formed when his father was killed in a mysterious accident years earlier. Traveling to Tanegashima, Daichi quickly finds himself involved with the machinations of Globe, a secret agency created to defend mankind from extraterrestrial forces.
While it might seem like a big job for a mere teenager, it turns out that the skills Daichi has honed on video games combined with a special weapon called the Livlaster make Daichi ideally suited for operating the Earth Engine Impacter. A giant robot, the Earth Engine may be mankind's best hope against aliens whose goal is to completely drain our world's lifeforce energy. Fortunately, Daichi won't be on his own. He's quickly joined by a group of equally dedicated young people who all have their own skills and abilities to contribute to the battle.
Commentary:
There are a plethora of Mecha titles coming out recently and most of them follow a rather tried and true format and some follow a rather static formula. Captain Earth is no exception and in many ways it manages to mirror one of the more remarkable mecha series ever released. I know that the art world is known for building on the ideas of their predecessors and the commonalities that Captan Earth has to Eureka Seven is a classic example. With that said I don't want to knock Captain Earth because I find it to be a very entertaining series and Yoji Enokido managed to bring in enough different elements that makes this series more of a next step in the evolution of the plot device rather than a blatant ripoff of the original Eureka Seven story.
The overall feel of the series was strong and moved with a solid pace so that it never felt like it was loosing focus. We are feed enough information and character development to keep us interested in these kids and also positively rooting for their cause. It takes several episodes to discover the real threat the Earth is under and the other unknowns are rolled out with a measured consistency.
The only real drawback to the series so far is the protagonist. In particular the super computer PAC. I found the fact that this computer managed to take on some all too human qualities that flat out contradict its logical superiority. Anyway, I found some of the darker elements of the story to have less than solid development.
Overall Grade: B+
The thing about Captain Earth that I enjoy is the fact that it continually give you a boost of positive reinforcement toward the main characters. And also gives a central player who needs all of the supporting cast to make their survial possible.
The overall animation of the series is typical Bones quality. The production values are high enough to make it easy to watch the series and yet some of the CG aspects are average at best. I realized while watching the series how important a lush sky is. I got a positive reaction every time I saw the deep cerulean  blue background with puffy white cotton ball clouds slowly passing and understood the importance in reminding the viewer how important saving humanity and the Earth is to the series.
I am looking forward to the second half of the series and truly hope that the story says on track. If you are looking for a solid Mecha that has similarities to Eureka Seven then you should get in line to check Captain Earth out, I know you will like it.