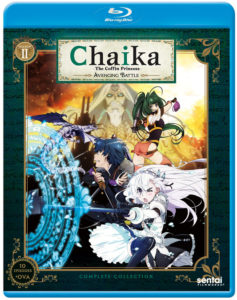 Title: Chaika The Coffin Princess Avenging Battle (Season 2) Blu-Ray
Director: Soichi Masui
Creator: Ichiro Sakaki
Anime Writer: Touko Machida
Studio: Bones
U. S. Distributor: Sentai Filmworks, Section 23
U. S. Release Date: September 27th, 2016
Format: Blu-ray/ 10 Episodes + 1 OVA/ 275 Minutes
Genre: Fantasy, Action, Supernatural, Harem
Age Rating: TV 14
Overall Personal Rating: A-
Synopsis:
The battle on the floating fortress is over, but the quest to recover the scattered remains of Emperor Gaz is too important to delay. As Chaika and her companions seek out the hero Claudia in order to obtain the heart, they race against Red Chaika, who seeks the hero, Guy, who possesses one of the arms.
Even as Chaika struggles to learn the new magical skills required to defeat Claudia, a startling new revelation comes to light which may change their mission entirely: not all of Gaz's magic research was destroyed, and information regarding the creation of the Chaikas may have been taken to a mysterious island!
With the possibility of uncovering the secrets behind their mysterious origins dangled in front of them, the Chaikas must decide whether or not they want to find the hidden island and brave its unknown perils. Could the entire thing be a trap?
It's highly likely, but how can they resist the bait as the spellbinding adventure continues in CHAIKA THE COFFIN PRINCESS – AVENGING BATTLE!
Commentary:
After almost 10 months Chaika returns to complete the series. Chaika the Coffin Princess Avenging Battle is more than the second season it manages to take the series to another level. There was much less concentration on the harem aspects and real focus on the plot and character development. The simple fact that all of the characters knew what they were after and set their sights on completing their mission was very helpful in drawing a clear line between them. As the mystery unfolded for both the viewer and the lead characters it became obvious that there had to be some soul searching as the final battle drew close.
Overall Grade: A-
Unlike the first season of Chaika the Coffin Princess, Chaika The Coffin Princess Avenging Battle is much faster and full of action. The plot develops at a lightening pace which is great if you are in a hurry to get to the end. I enjoyed it but felt like there could have been a little more story development to help explain everything that was going on. Even with the shortened length I still felt like there was plenty of information and  lots of excitement. I was even pleased with the ending.
It was refreshing to have the series focus on the end and also loose some of the emphasis on the Moe and Harem aspects to provide a solid series that has plenty of characters that anyone can connect with.
If you liked the first season of Chaika then you will love Chaika The Coffin Princess Avenging Battle. If you haven't seen the first season and are interested in some fun and excitement then you should check out the series from the beginning. I think  you should be hooked and ready to see the rest.