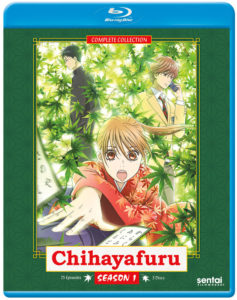 review provided by Katie and Andrew
Title: Chihayafuru Season One on Blu-ray
Director: Morio Asaka
Studio: Madhouse
Author: Sumino Kawashima
U.S. Distributor: Sentai Filmworks, Section 23
U.S. Release Date: September 12, 2017
Format and Length: Blu-ray / 25 Episodes / 625 Minutes
Genre: Drama, School Life, Slice of Life, Sports, Card Game
Industry Age Rating: 14 and up
Overall Personal Rating: A
Similar Series or Titles to Check Out: Hanasaku Iroha: Blossoms for Tomorrow
Synopsis:
Chihaya Ayase was a girl who never seemed to fit in. She never had much in common with the other kids, and her family was so obsessed with her older sister's modeling career that, sometimes, it was like Chihaya was not even there. Everything changes when transfer student Arata gets Chihaya interested in the world of competitive Karuta, a unique card-based game that requires lightning fast reflexes, an exceptional memory, and a keen ear. Chihaya is a natural, and she has the skills to take her to the very top. Suddenly, Chihaya has found her goal: to become the best player in Japan! It will not be easy, but when a girl has a dream in her heart, nothing else matters! Will Chihaya become the Queen of Karuta? You will have to watch Chihayafuru and find out.
Commentary:
Chihayafuru is a series that starts off very slow but then it becomes something amazing. The character development is amazing and I truly believe that Chihayafuru loves its characters. Chihaya is the tom-boy who wanted nothing better than for her sister to become the top supermodel in Japan. That was her dream for her life. But thanks to Arata and Taichi, she finally realizes that she wants to be the Queen of Karuta. Taichi is from a wealthy family and he is quite the golden boy as he is smart, good looking, and mature. He also excels at nearly everything he does which is why he is the President of the Misusawa Karuta Club. He has a crush on Chihaya but is hesitant to do anything about it as he believes she only has eyes for Arata. Arata left after elementary school graduation to take care of his grandfather. His passion for Karuta is inspired by his grandfather who was a Meijin (master).
I will try and explain Karuta but it will not be short. Karuta is not to be compared with playing cards in the sense of the Western World. It is not Poker, Rummy or Skat. It would be most comparable to Memory. There are different types of Karuta that can be played. Uta-Garuta is played in Chihayafuru. The card game consists of 200 cards, 100 of which are called Yomifuda, this are the reading cards and 100 Torifuda, which are the cards that are use by the players itself. On the Yomifuda are the first three verses of a traditional Japanese poem. The Poetry comes from the Hyakunin Isshu (100 poems of 100 poets, each poet one poem). The Torifuda (game- or field-cards) contain the last two verses of the respective poem. The challenge consists in recognizing the poems during the reading and to catch the corresponding play card in front of the opponent. Karuta fulfills everything a sport should have, high concentration, excellent memory, lightning reflexes, strategic thinking, endurance, resilience, mental strength and a tremendous commitment to the long training for coordination and precession. The person who touches the right card on the field first gets the card, when you take a card from the opponents side you can give them one of yours, when your half of the playing field is empty you win.
It sounds simple and quite boring but it's NOT. In order to touch the right card quickly, cards get flung of the playing field, people are sweating, thinking and reacting at full speed and crazy-eating chocolate in between these intense games. To really play Karuta at top level you need memorization skills, good hearing and senses, good posture, analytic and strategic skills, precision, strength, speed, perseverance, an emotional connection to the cards and so much more. As you can see, Karuta is very difficult to play but when it is played by people who love it, it is a beautiful thing.
The animation was so beautiful and colorful. They showed off backgrounds that will take your breath away and traditional Japanese clothing that is just amazing. The voice actors did a great job and I really enjoyed this series even if the first five to six episodes drag a bit.
Extras:
Chihayafuru includes clean opening and closing animations and Sentai Filmworks trailers as Special Features. This series was released with both English and Japanese with English subtitles as language options.
Overall Grade: A