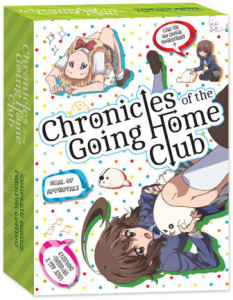 Title: Chronicles of the Going Home Club Complete Series Premium Collection
Director: Hikari Sato
Witten By: Go Zappa
Music: Go Sakabe
Studio: Nomad
U. S. Distributor: NIS America
U. S. Release Date: Mar. 3rd, 2015
Format: Blu-ray / 12 Episodes / 288 minutes
Genre: Comedy, High School Slice of Life
Age Rating: T for Teen
Overall Personal Rating: B+
Synopsis:
It's the beginning of a new year of high school, and school clubs are diligently recruiting members to take part in their activities. However, Natsuki Ando has decided to join the "Going Home Club," a fictional club which students who have no club affiliation and simply go home right after school jokingly claim to be members of. But Natsuki and her new friend Karin soon discover that this particular school has a real, bona fide Going Home Club!
Teaming up with club members Claire, Botan, and Sakura, the official unofficial Going Home Club gets up to all kinds of kooky trouble and hilarious fun!
Commentary:
There has been several newer slice of life series released in the U. S. lately and Chronicles of the Going Home Club stretches the genre a bit but it does manage to keep the story simple enough to make some sense. The comedic aspects of the series also stretch humor a bit, but that tends to hit more than miss. The point of taking 5 cute girls and making them a strange bunch with one somewhat serious member sets the story up for plenty of opportunity to just be silly. And that is exactly what happens.
From the very opening thing get a little strange and silly and they just go from there. There is plenty of fun to be had and on several levels it is very funny. There is even the obligatory swimsuit vacation episode that places the girls in a potentially sexy fan service situation, but instead they go straight for the weird and graciously keep everything modest. I have to give them high marks for this. I'm sure the audience is not the standard 16 to 28 year old male, but rather the younger female audience. I appreciate that approach and thing that give real strength to the series.
Overall garde: B+
Out of the last three or four releases served up by NIS America I have to say that this one comes in second behind The Eccentric Family and just ahead of Genshiken Second Generation. The main reason for this is because I del like the subject matter was easy to watch and the humor was just plain silly. Chronicles of the Going Home Club was very honest with itself and stuck to its original premiss and played out the series unapologetically.
I found the character development somewhat anemic, but for this story all you needed to know was the oddity to each personality and then watch them interact. The animation fit well even if I never have been a fan of chibi art styling it was use well enough that it help further the comedic relief and proved to be enjoyable enough.
If you are loping for a series that is silly and doesn't demand much of anything from the viewer except that they just sit back and try to envision these silly hoping women really existing. This believe is needed to help aid in the over all enjoyment. I for one remember a few girls in high school that were this strange and almost everyone liked them because they just manage to always make you smile. If you enjoyed Daily Lives of High School Boys you will fit right in with this odd little series.
Extras:
This premium edition contains episodes 1-12 packaged in an artbox and comes with a hardcover, 64-page art book filled with detailed character info, interviews with cast members and production staff, original letters from the voice actors, and full-color illustrations.