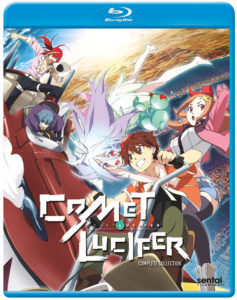 Title: Comet Lucifer: Complete Collection on Blu-ray
Directors: Yasuhito Kikuchi, Atsushi Nakayama
Writer: Yūichi Nomura
Studio: 8-Bit
U. S. Distributor: Sentai Filmworks, Section 23
U. S. Release Date: Feb. 14th, 2017
Format: Blu-ray / 12 Episodes / 300 Minutes
Genre: Fantasy, Mecha
Age Rating: TV MA
Overall Personal Rating: B-
Synopsis:
Sogo Amagi has spent a good portion of his young life looking for rare crystals in abandoned Giftdium mines, but it's not until he's lost in the ruins beneath his own home town that he and his friend Kaon make the most incredible discovery of all: a giant crystal with a girl trapped inside! Things only get wilder when the girl is unexpectedly freed.
Suddenly, the mines are invaded by giant robots controlled by a secret military organization, which is in turn fought off by a mysterious being made of crystal!
That leaves Sogo, Kaon, and their friends scrambling to figure out what to do with Felia, a red-eyed girl with strange powers who doesn't even speak their language!
They need to figure everything out quickly, because unless they can unravel Felia's secrets and learn why the military is after her, their whole planet may be in danger of complete annihilation in COMET LUCIFER!
Special Features: Garden Indig's Train Shorts, Music Videos, Clean Opening and Closing Animation.
Commentary:
Within a few minutes I had a wave of other anime flood my memory. Comet Lucifer is a clear derivative of several there anime and in some ways it fails to live up to the standard that has been set before it. In other ways it manages to give us a story that entertains and intrigue. I understand why Sentai didn't spend the money to dub Comet Lucifer and also understand why it didn't take long to go from Crunchyroll to Blu-ray.
There is plenty of decent mystery and tension in Comet Lucifer. Although the area where it falls apart for me is in the character development and attempt to provide some comic relief. I did like the way Felia attached herself to Sogo and Kaon, but also felt like there was a weak attempt to create a real family between the three. It is not until late in the series that there seems to be a sense of connection. Even with that connection there are plenty of question that are left open.
Overall Grade: B-
As much as I wanted to really like Comet Lucifer and did enjoy some aspects of the series, but all in all I bound it to be forced and overly contrived. The series doesn't have the feel of Fractle or even the odd the special connection that is found in Last Exile.
I tend to really enjoy these fanciful stories and love the way they tend to unfold. Comet Lucifer has much of the key aspects needed to be a fine series. In the end it does some things really well, but the total development of the characters leaves some things out which ends up hurting the overall strength of the series.
If you are a fan of fantasy anime that is a hidden love story the you should like Comet Lucifer just let it flow over you and do try to make it fit the trope it comes from.