Title: Cutie Honey Universe complete Collection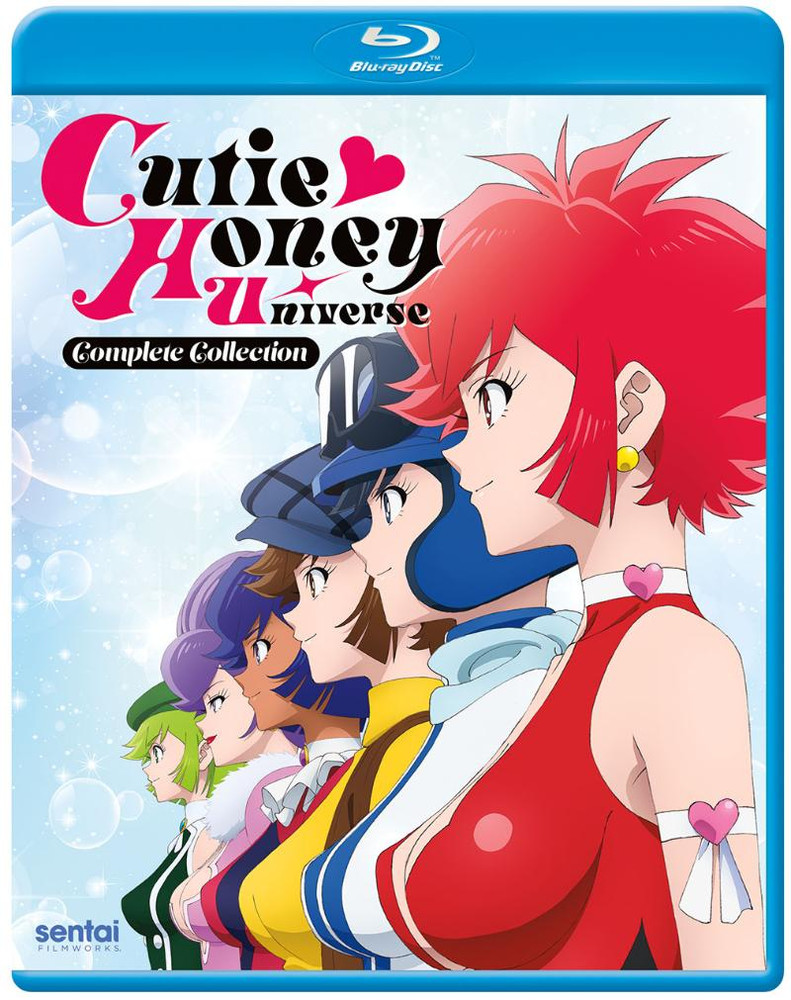 Director: Akitoshi Yokoyama
Writer: Akiotshi Yokohama
Original concept/manga series: Go Nagai
Producer: Production Reed
Format: Blu-ray / 12 Episodes / 300 Minutes
U. S. Distributor: Sentai Filmworks
U. S. Release Date: July 23, 2019
Genre: Action, fan service
Audio: Japanese and English
Age Rating: 17+
Overall Personal Rating: B
Synopsis:
The sweet natured young lady named Honey is more than just a student, she also works with PCIS, the organization that fights against the evil collective of monsters called Panther Claw.
Panther Claw is strictly controlled by Sister Jill who wants the Airborne Element Fixing Device that Honey's father had created. She also has a vendetta against Honey which fuels her insane and ruthless destruction. The disposable monsters that serve Sister Jill are transformed from people she tricks or captures.
In their attempts to force Honey into giving up the Airborne Element Fixing device, Panther Claw will use innocent bystanders to lure Honey into traps. With her instinct for good, Honey engages in battle to try to stop them, all the while struggling with the insight that it is her and her father's creation that are the true targets.
Commentary:
Cutie Honey Universe is an action anime with a nod to the past. Developed from a manga series created in the 1970's, this series follows other Cutie Honey shows. This directly influenced the older look of this animation and also the story telling pattern. Still, it had some interesting graphics and design.
This is a story of good and evil, with Honey being the pure goodness. She is sweet, naive and forgiving perhaps to a fault. Sister Jill is almost pure evil. Some of the attacks are unique in form and gruesome in concept. I don't know why, but some of the violence was just weird. Be prepared to suspended a need for logic or clarity, especially in fights. Some things just don't make sense, but made for a cool fight.
Cutie Honey Universe seems to get bogged down in the middle by the repetitive nature of the episodes. Panther claw sets a trap, creates havoc, Honey and the PCIS try to stop them, there is a battle and no real resolve. Then it happens in the next episode, just the detail change. We don't seem to get anywhere in the series very fast. They could have skipped the middle 6 episodes.
The final battle was epic enough to be an exciting climax (my favorite part), but some things in the series seemed to be too quickly skimmed over. Sister Jill's obsession with Honey (outside the Airborne Element Fixing Device) doesn't make sense, it is nearly pointless. Where her actions stem from? I would have enjoyed it more had I known. There is more to her, but isn't addressed in this incarnation of Cutie Honey. A quick search will revel the root of her evil.
Cutie Honey Universe isn't all action, it has a bit of science fiction, fantasy, comedy, fan service (transformation scenes and clothing fails in battle) and yuri mixed in. All of these elements are mixed in but aren't dominate enough to use for a recommendation if that would be what you are looking for.
Overall Grade: B