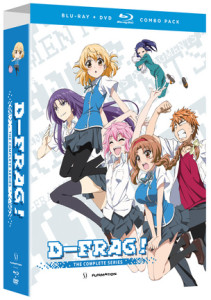 Title: D-Frag!: The Complete Series
Director: Seiki Sugawara
Written By: Tomoya Haruno (Original Story), Makoto Ueze (Anime)
Studio: Brain's Base
U. S. Distributor: Funimation Entertainment
U. S. Release Date: April 28th, 2015
Format: DVD/Blu-ray/ 12 Episodes/ 300 minutes
Genre: Comedy, Harem, Seinen
Age Rating: TV 14
Overall Personal Rating: B+
Synopsis:
Kazama is a wannabe delinquent on a mission to rule the school, but a run-in with the cray cray cuties of the Game Creation Club derails his plan for power. Instead of conquering Fujou Academy with his fists, Kazama is plunged into a hilariously-twisted world where pain is the name of the game.
Ruled by the adorable underground boss Roka, the Game Creation Club is comprised of pretty psychopaths who enjoy snacking, setting things on fire, burying adversaries up to their necks, and tazing the ???? out of anyone who stands in their way! As Roka vies for ultimate control of the school club scene, Kazama scrambles to maintain his sanity and survive the whacked out games these girls play. There's no escaping the Game Creation Club!
Commentary:
D-Frag! started off with a real dud for me. I was thinking how painful it will be to sit through 12 episodes of some rather base humor that looked to be going nowhere. It wasn't funny, it was sad the way they introduced the characters and it felt like a bad derivative of some many other comedy anime that I just cringed. Although after the first few episodes I began to see the writing begin to come together and provide a few solid laughs and hit home on some rather quirky personalities that are always present in large group settings. Even if I do feel like they tended to go for the hyper caricature of a couple main personalities. Things did manage to come together and I thought the comedy is what saved the series.
Of course the plot was all over the place and tended to meander in the woods from time to time. I had a feeling that the writing was more concerned with the punchlines rather than have a plot that took us somewhere. I know that it is a honest genre option to stick with absurdity when it comes to following a plot line, but in the case of D-Frag! I don't think it was intentional.
Overall Grade: B+
There is plenty to praise about D-Frag! and the animation itself was very nice. Brain's Base proved why they are getting more and more work over the last 13 years. It is clear and clean with a color pallet to match the tone of the series. It would have been very easy to lean toward a fan service profile with the series but they didn't. Of course there is the obligatory young lady who is well endowed, but it was the exception rather than the rule and because it wasn't the focus to the story it help make some of the humor more viable.
D-Frag! gave me grave concern at the beginning thinking that it was another silly series that missed the boat when it could have been a very funny series, but instead it ended up making laugh out loud enough to praise it for the simplicity of where it takes us. I would have like to see the plot be a little bit tighter, but the laughs took me where I really needed to go.
If you are looking for a series that is all about the funny and doesn't seem to need to turn to mean spirited pranks to make it funny, then I can say with certainty that you will enjoy D-Frag!