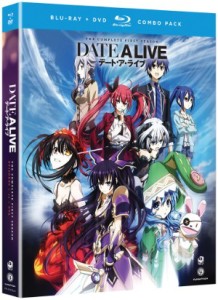 review provided by Luther
Title: Date A Live Complete Series
Director: Keitaro Motonaga
Writer: Hideki Shirane
U. S. Distributor: FUNIMATION
U. S. Release Date: June 10th, 2014
Format: Blu-ray / 12 Episodes + 1 OVA / 311 Minutes
Genre: Comedy, Science Fiction, Harem
Age Rating: TV 14
Overall Personal Rating: B
Synopsis:
In a world devastated by mysterious Spatial Quakes, Shidoh isn't what you'd expect in a hero. He's an average Joe who gets bossed around by his adorable little sister and mocked by the popular girls at his school. You'd definitely pick him last for dodge ball, but when it comes to saving the planet from imminent destruction, Shidoh's got one thing going for him: intergalactic hotties can't keep their hands off him!
When the secret to stopping the Spatial Quakes turns out to be romancing the extraterrestrial Spirits responsible for all the chaos, Shidoh the loveable loser becomes the hero of all humanity. For every Spirit he makes out with, mankind breathes a little bit easier. Kiss the girls – save the world. That name of the game is driving the space babes crazy, and nobody does it better than Shidoh!
Commentary:
At its core Date A Live is a harem anime, in which an unsuspecting dull male protagonist spontaneously attracts a horde of eccentric women. In many ways Date A Live is just a standard harem, for even the heroines are common character types. So the show does have a somewhat generic feel to it, however that does work to its advantage in some ways. With the show being as short as it is, having characters that are very distinguishable and easy to connect with, I was able to get a relatively good understanding of who the characters are with the limited episodes available.
One thing that Date A Live does have that sets it apart from other harem anime is that the protagonist, Shidoh, goes on actual dates with all the girls. While this may not be a revolutionary concept, it's definitely not something I've seen in a lot of harem anime. There is also a lot of action in this series, for these dates will explode in to fantastical fights between super powerful girls. Though the change in action can be sudden and drastic, the transitions are well done and work well with the setting of the story.
Overall Personal Grade: B
Although Date A Live isn't anything outstanding, it has bold characters in a memorable story and a good mix of action and romance. If you are a fan of harem anime, this series should not be missed.