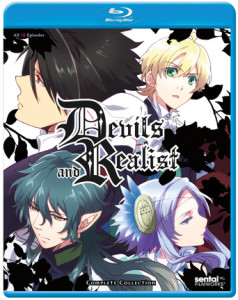 Title: Devils and Realist The Complete Collection on Blu-ray
Director: Chiaki Kon
Written By: Michiko Yokote
Creator: Madoka Takadono
Studio: Dogakobo
U. S. Distributor: Sentai Filmworks, Section 23
U. S. Release Date: March 17th, 2015
Format: Blu-ray / 300 minutes / 12 Episodes
Genre: Supernatural, Fantasy, Comedy
Age Rating: TV 14
Overall Personal Rating: B-
Synopsis:
When William Twining breaks into his bankrupt family's vaults seeking funds for his tuition, he has no idea what he's about to pay for his higher education. Instead of cash, William discovers that he's supposed to choose the (interim) ruler of Hell! That would be a bedeviling predicament under any circumstances, but when the bearer of said dread tidings is also hitting William up for the job… Well, it's just not a good thing. Nor is it easy to put the would-be Devil behind you, as the impish Dantalion quickly roots himself into William's school life while simultaneously jockeying with an unholy host of other Arch-Fiends-To-Be for the coveted position of Devil in Charge.
With a surprisingly large percentage of both students and faculty at William's school turning out to be demonic in nature, he'll need the Wisdom of Solomon to find a way to get all these devils off his heels – and fortunately for him, William apparently WAS Solomon in a former life! Will the hallowed halls of Stradford become host to the hordes of hell?
Commentary:
Devils and Realist set me back on my heals at first. I thought for sure it was going to end up as a yaoi series or at the very least a shonen ai. In many way I have to call it a shonen ai which pretends to be closer to a shojo comedy with the supernatural slant. It works for a while, but it becomes rather tedious after a while. The real disappointment comes in the story development. This use of an ancient soul of the wise Solomon and the control over the demons of hell could have been so much more interesting. It could have laid out a powerful interaction between the demons under covenant with Solomon and the powers that wanted him out of the pictures. It is not until the very end that I felt like it began to work.
The sexual tension between these fellas just seem silly and the character of William Twining / Solomon lacked any likable aspects. I know it was important to make William a cold calculating arrogant snob who didn't believe in the occult, but he could have been a little more sympathetic and friendly. When it was important to have the other come to his aid and wish for him to make the right decision I'm not really sure why anyone cared.
Overall Grade: B-
Devils and Realist did have some solid points and most of the other characters were likable and well developed. The animation was above par and the products was superb. I just wish the story stood up along side the rest of the attributes.
I can see why it would have a fan base. There are plenty of pretty guys in this one and there is the demonic connection that attaches the demon to the human. I wonder where we heard that story before. Just in this case the demon doesn't get to eat the soul of the contractee. It is also a slick production that doesn't require much thought or effort. So, if you are looking for a light anime that focuses on pretty guys with a dark edge, Devils and Realist is for you.