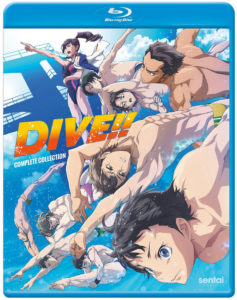 Title: Dive!! The Complete Collection
Director: Kaoru Suzuki
Written By: Tōko Machida
Studio: Zero-G
U.S. Distributor: Sentai Filmworks, Section 23
U. S. Release Date: Dec. 11th, 2018
Format: Blu-ray / 12 Episodes / 300 Minutes
Genre: Sports, Drama, Comedy, Slice of Life
Age Rating: PG
Overall Personal Rating: B+
Synopsis:
Tomoko Sakai has loved the sport of diving since he was a child, and there's no place he'd rather be than the high board at the Mizuki Diving Club. Unfortunately, the MDC's having hard time staying afloat financially and there's a sinking certainty that the club is about to drown in a sea of its own debt. Fiery female coach Kayoko Asaki has a bold plan to throw the club a lifeline, but it's going to require achieving something that's almost impossible: get one of the club's members on the National team for the next Olympics! Can this struggling group of young athletes pool their talents in time to resuscitate their club, or will they make the ultimate belly flop? It's time to sink or swim as the whole team leaps for the gold!
Commentary:
Dive!! jumps into the deep end of the many sports and swimming anime that have littered the screen over the last few years thanks to the popularity series like Free and Haikyu!!. Most of the series that come out tend to be heavy on sports and drama and light on character development and substance. Dive!! on the other hand play lightly with the sport and focuses on the character development. This helps the short series rise to a level most don't manage to find.
Being a serious fan of Haikyu!! I expect a sports anime to give me more that just cheesecake I want to care about these young athletes and really want to see then succeed. Dive!! manages to provide me with 3 characters that each have their own reason to compete and also have good reason to become friends. The fact that we don't have the revenge rivalry amounts these 3 is great. They have their reasons to compete and go for the top, but they also see the best in each other. Often you find a team spirit that is only at the surface with some other deep seeded envy or unhealthy competitive nature lurking in the dark areas of the characters existence. Dive!! makes these young athletes friends before they become true competitors which helps them root for each other in a very natural way. That in itself would make the series work watching, but add that to full character development and you have a solid series that makes you smile more often than not.
Overall Garde: B+
I know you are asking why is it that I praised the series so highly and only give it a B+. The answer is simple, there series is just way too short. Everything seems to flow naturally through the first 10 episodes then like a flurry the story is wrapped up. There is a rush to complete that both disappoints and also lets these wonderful characters down. I wanted to learn more about all three of these main characters and get a better feeling of the struggles they each have to go through. In other words the series let itself down by being so short.
The rest of the production was solid from the animation to the voice acting. There were a few moments that I felt a softer tough with cell shading would have worked better, but they are not paying me to be a technical advisor so I guess that is just a personal issue.
If you enjoy sports anime and are looking for a quick fix then all I can say if Dive!! into it, you will walk away with a smile.