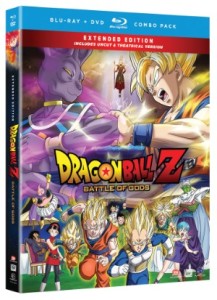 Title: Dragon Ball Z Movie: Battle of Gods
Director: Masahiro Hosoda
Studio: Toei Animation
U. S. Distributor: Funimation
U. S. Release Date: Oct. 7th, 2014
Format: DVD/ Blu-ray / Feature Film / 105 Minutes
Genre: Shonen, Action Adventure, Martial Arts Battle
Age Rating: TV 13
Overall Personal Rating: B
Synopsis:
Following the events of the Dragon Ball Z television series, after the defeat of Majin Buu, a new power awakens and threatens humanity. Beerus, an ancient and powerful God of Destruction, searches for Goku after hearing rumors of the Saiyan warrior who defeated Frieza. Realizing the threat Beerus poses to their home planet, the Z-fighters must find a way to stop him before it's too late. Only Goku, humanity's last hope, can ascend to the level of a legendary Super Saiyan God and stop Beerus from destroying Earth, and possibly the entire universe!
Commentary:
In the world of anime there are some very consistent truths and one of those truths is that Dragon Ball Z will never end. With that thought in mind you might think why would they keep making these movies, well the simple fact is that the fans are all nuts about it no matter how good or bad the movie is. In the case of Battle of Gods I guess you could say it was good. At least better than most of the films. It does everything any dragon ball fan wants to see and then just a little more. There is plenty of high action and Goku on the verge of getting beet. There is a foe that appears to be more powerful than anything anyone except the Kai's have ever see. There is a mythical story about a Saiyen or should I say a Saiyen God. There is also Vegeta, well being Vegeta.
If there is anything really missing it is that Krillin doesn't die and also has a full head of hair. For me those are two things that are right out misses for me.  Everybody is there for Bulma's big birthday bash which give way to some very funny action and also some rather goofy stunts. Honestly I enjoyed the action at the party more than the fighting. It still ends up being the bash to be at for all of the characters.
Overall Grade: B
Even though I enjoyed the film for what it is, I can still say it is not an outstanding film in its own right. If it didn't have so much history and story behind it I think that Battle of Gods would be a rather average action film at best. Most of the jokes are there because of the series and simply put if you don't know the series then you won't understand what is going on most of the time. Of course there may only be 5 people on earth that would sit down to watch this film and not know the back story.
Battle of Gods is a relatively good Dragon Ball Z film and it does one thing that most of the films don't do, and that is to lead you to the next story. Battle of Gods does everything it can to setup the future for the franchise and look out once it gets hear you better keep your arms and hands tucked in or you might loose something on the ride.