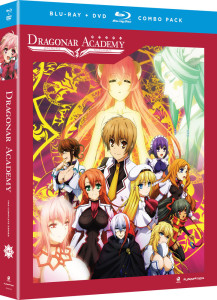 review provided by Andrew and Katie
Title: Dragonar Academy: The Complete Series
Director: Shunsuke Tada and Tomoyuki Kurokawa
Studio: C-Station
Author: Noboru Kimura
U.S. Distributor: Funimation Entertainment
U.S. Release Date: November 24, 2015
Format and Length: Blu-ray –DVD Combo Pac / 12 Episodes / 300 Minutes
Genre: Comedy, Fantasy, Fan Service, Harem, School Life, Ecchi
Industry Age Rating: 17 and up
Overall Personal Rating: D
Similar Series or Titles to Check Out: The Familiar of Zero
Synopsis:
Learning to ride and tame dragons comes easy to most students at Ansarivan Dragonar Academy.
Known by his fellow classmates as a "problem child", hot tempered student Ash Blake is one of the only students who have yet to get his own dragon companion. Many of his fellow students also hate the fact he has a skill no one else has, the power to ride other's dragons, any dragon. Poor Ash is the laughing stock at school because, despite his unfashionably large star-shaped brand that marks him as a future dragon master, he has nothing to show for it. His dragon has never appeared. However that day finally came, and Ash's dragon awakes in full glory, but appears different than any dragon ever seen before—in the form of a beautiful girl! What's worse, Ash soon discovers that this new dragon has attitude to spare, as she promptly informs him that she is the master, and he, the servant. Ash's problems with dragon riding have only just begun.
Commentary:
Every once in a while an anime series comes along that looks like it's going to be absolutely awesome. Then you watch it. Very few animes have disappointed more than Dragonar Academy. Two dimensional, excessively cliché characters, who do not know how to keep their clothes on, combined with lack of story and uninspired storytelling, and unfortunately, horribly excessive fan service (bordering on adult) combined to ruin a very promising premise. Anime is full of time honored clichés that never seem to disappear and Dragonar Academy is so packed full of them, it shows just how void this show is of any creativity or imagination. Giant bouncing breasts on all women characters, naked magic girls showing up from nowhere and mood swinging tsundere characters are ripe and abound in this series. It felt that it could not even do that right, not bringing anything original in, but more a copy/paste of many similar series that did equally as poorly.
There was hardly any plot in Dragonar Academy as it was abandoned, or completely sidetracked within the first three episodes. The premise behind it all was great but the execution was horrible. It seems as if they decided they could not fit everything from the source material into a twelve episode season, so they just did what they did. The characters were very boring and none seemed interesting in the least. None of them stood out from the others and made the series drag on.
I was also disappointed when I saw the dragons as I thought they would be more along the looks of a Chinese style dragon more instead of what was shown, which looks like a t-rex mated with a European style dragon and that was their kid. The dragons looked like a fantasy dragon with grossly exaggerated character designs. The dragons are also pushed into the background so that the fan service can take over the series. The rest of the art was okay but nothing special. The voice actors did a good job but I do not think anything could have made these characters interesting.
Extras:
Dragonar Academy: The Complete Series includes episode commentary, commercials, promotional videos, clean opening and closing animations, U.S. trailer, and Funimation Entertainment trailers as special features. This series was released with both English and Japanese with English subtitles as language options.
Overall Grade: D
Dragonar Academy was a letdown across the board. It had so much potential but they instead went the fan service way. I would recommend watching The Familiar of Zero or any other series like that instead of watching Dragonar Academy.