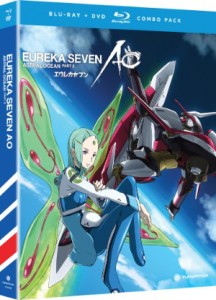 Title: Eureka Seven AO: Astral Ocean Part 2 
Director: Tomoki Kyoda
Studio: Bones
U.S Distributor: FUNimation
U. S. Release Date: October 15th, 2013
Format and length: DVD / Blu-ray / 320 minutes / 12 episodes + OVA
Genre: Mecha, Science Fiction
Publisher/Industry Age Rating 14+
Overall Personal Rating: B+
Synopsis:
During a dangerous zero-gravity mission to keep a clash in space from colliding with Earth, Ao meets his mother for the first time since she disappeared. Chaos erupts when the vengeful enigma known as Truth learns of her return. As Ao fights to protect his mother and solve her transient state, he discovers a weapon so powerful it can alter Earth's timeline.
Conflict elevates across the globe as this warhead and new intelligence on the hostile aliens polarizes former allies. When another pilot and his machine from the future enter the fray, Ao will finally learn his true origin – as well as his role in saving his mother, his friends, and his planet from obliteration.
Commentary:
Even with the complexity of the series I found Eureka Seven AO: Astral Ocean to be a very entertaining show. It often kept me guessing and confused as to what was going on, but rather than leave me guessing I was brought back into the know rather quickly. Not only does this keep the series interesting it manages to show off how well it was written. The creative team behind Eureka Seven AO had a vision and understood how to deliver it.
Studio Bones also stepped up with a beautiful animation. On several occasions I was blown away by what was going on in the background. It is very easy to focus on what is in the foreground and just have simple background work that is beautifully rendered. In this case I was constantly amazed on how much activity was going on all around the focal point. In many ways I think this attention to detail on the world around the action also added to the level of enjoyment.
Overall Grade: B+
The one thing that brought me down was the ending. I'm not going to give anything away, but I would have enjoyed some more info at the end. Other than that I thought it was a strong 12 episodes. I wasn't so hip on the OVA and more often than not they are just throw away stories that don't have any impact on the plot and I have never been a fan of filler episodes. On a whole, I was very please at how things wrapped up. I know that part one of Eureka Seven AO came across as too complicated and by releasing them in 2 parts and with 2 months separating them. For those of you that come back to the series after the gap I know you will be pleased and just hope that those who were confused come back around to get the rest of the story, I don't think you will be disappointed.
In the world of mecha anime Eureka Seven has carried a bit of mystique with it and may purest don't like the new series. I have to tip my hat to this series because it pushes the boundaries and creates its own story. You don't have to know the original story to get  into this one and I would highly recommend this for anyone who enjoys mecha series that make you work to keep up with them.