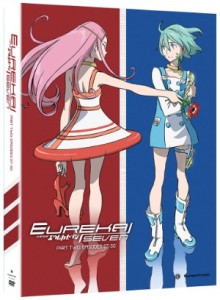 Title: Eureka Seven part 1 & 2
Director: Tomoki Kyoda
Author: Dai Sato
Studio: Bones
U. S. Distributor: FUNimation
U. S. Re-Release Date: April 22nd
Format: DVD or Blu-ray / 50 Episodes / 1200 minutes
Genre: Mecha, Sci Fi, Romance, Action, Adventure, Drama
Age Rating: TV 14
Overall Personal Rating: A-
Synopsis:
For Renton, every day's the same. Nothing happens, nothing changes. He goes to school, he goes home. The only thing that keeps him happy is lifting on his ref board. Then one day, a giant mecha called an LFO comes crashing down on him – literally. Inside is the most beautiful girl he has ever seen!
The thing is, the girl is on the run from the military with her stolen mecha, and she's brought trouble with her. Renton will have to summon up all his courage to face his childhood hero; get the girl he's hopelessly smitten with to like him; and – oh yeah – live up to the legacy of his father who saved the world. But hey, at least it's not boring anymore.
Renton's adventure continues as the burgeoning hero struggles to balance the rush of young love against an onslaught of riveting revelations. Eureka's shocking origins come to light, the truth about Norb surfaces, and secrets emerge that force everyone to question their allegiances. As Eureka and Renton finally reach Earth, a mysterious facility hiding tragic experimentation is discovered. The fate of the world is at stake as Eureka beings her harrowing transformation. Only Renton has the power to save her, but at what cost?
Commentary:
Hurray for FUNimation for saving this great series from the depths of being out of print and rarely seen. Picking Eureka Seven up from Bandai was a stroke of genius. It is simply a great series that does more than just give us a Mecha / Romance. It provides plenty of food for thought. With Eureka Seven you get something for everyone and even more if you really get into it. I realize that at its core Eureka Seven is just another Mecha or rather a love story or maybe just a Action/Adventure Sci Fi. Well, really it is a romance that blends the future and Mechas together, but once you get into it the story is all about Renton and Eureka and their love for each other. I'll be honest about that and say that, at times, I found it to get in the way of the rest of the story.
For a series that is almost 10 years old, the animation was rather good looking. The blu-ray version retained the TV format, but other than that it did impress me on the high quality of production that Bones provided. Of course that is to be expected from Bones. The story itself is one of the few that start with a anime based studio production that then branched into a manga series a few months after initial release. I do see some weakness in the development in Renton's character that lent itself to the persona of a Shinji from Evangelion and there are more similarities to the earlier classic that are just too close to be ignored, but with the rest of the story and length and complexity of Eureka Seven it is easy to give them a pass this time. I just wish the Japanese would get over the whinny boy persona that emanates in all too many anti heroes in these series. The other big question is why would any woman or girl love such a person. I would think that would just want to slap him every time he began to cry.
Overall Grade: A-
I really enjoy this series and hope that with this new re-release a new generation of fans will discover it for what it is. If you can get past a whinny anti hero and get let the story wash over you for what it is then I believe you will end up agreeing with me about the overall strength of Eureka Seven.