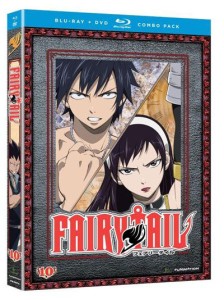 review provided by Luther
Title: Fairy Tail Part 10
U.S. Distributor: Funimation
U. S. Re-Release Date: March 25, 2014
Format: DVD / Blu-ray combo pack
Genre: magical adventure
Age Rating: 14+
Overall Personal Rating: B+
Synopsis:
The masters of magic have converged on a remote island, where Natsu and his teammates go head-to-head with Grimoire Heart, a dark guild led by one of Fairy Tail's former masters. Revelations from the past and long-buried secrets continue to come to light as Cana is granted a sacred new spell, and an excommunicated guildmate makes an unexpected return.
If Fairy Tail has any hope of defeating their diabolical opponents, they're going to have to combine all their powers and work together like never before. But as curses start to fly between wizards, the real danger might come from Zeref, a legendary dealer of death whose devilish plans for the future could bring an end to this golden age of magic.
Commentary:
Fairy Tail is a grand fantastical adventure of a series, with bold memorable characters and exciting action sequences. Fairy Tail has many similarities to shows like Dragon Ball Z and One Piece, with over the top fights with over powered bad guys, but one of the things that I feel really sets this show apart from these other shows is the vast and interesting cast of characters. There are characters that are: old or young; male or female; human or cat. With so many differences between characters, Fairy Tail has a much more dynamic and colorful story then other shonen series, and although it may not be a deep or complex series, it is definitely a lot of fun to watch.
Fairy Tail Part 10 continues with the Fairy Tail Guild's fight against the Dark Guild Grimoire Heart. So far this has to be one of the more interesting story arks. As I mentioned, Fairy Tail has a large cast of characters, and in story arks, a lot of the secondary characters really have a chance to shine. In a way, it felt like the main characters were less important that everyone else until the last few episodes. So it was really interesting seeing some other characters get a chance to fight, however I will admit that with so many characters active at once, there were a few times where the show was juggling to may fights at one time, with constant jumping back an fourth between fights.
Overall Personal Rating: B+
Although Fairy Tail is not a particularly mature show, it is still a lot of fun to watch, and I can recommend it to any fans of high action anime.