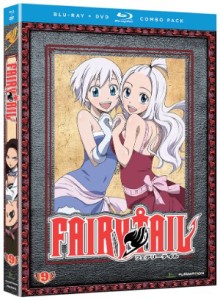 Title: Fairy Tail Part 9 Anime Review
U.S. Distributor: Funimation
U. S. Re-Release Date: March 25, 2014
Format: DVD / Blu-ray combo pack
Genre: magical adventure
Age Rating: 14+
Overall Personal Rating:
Synopsis: A-
There is to be a contest for the Fairy Tail Guild members to see who can move up to be an "S" Class wizard.  A group of contestants is  chosen and they in turn  select a companion to help them. The Guild Master Makarov takes them all to the scared ground, an island belonging to the Fairy Tail Guild.
A series of challenges are set up . The Guild members now must compete against each other since there will be only one winner. Those teams which are eliminated make their way back to base camp to wait.
During the trials, one team encounters an odd young guy. He has a dark vibe, but is sad and moody, often crying. Not worrying about it, they move on to complete the challenge. However, worse things begin to happen as a dark force seems to permeate the island. Now instead of trying to beat each other, the Fairy Tail Guild must pull back together as one to fight the dark enemy at hand.
Commentary:
Fairy Tail still retains all that was good in the beginning even with it being so long, with no end in sight. There is a variety of elements in this series that helps it appeal to a wide audience. From action to comedy, mystery to magic, there is many interesting pieces to this well woven show.
Fairy Tail is a large cast, each arc seems to add a primary and secondary character. Few, if any, actually disappear for good. Still, even with so many personalities, it is all successfully juggled. In Part 9, they changed things up a bit. When the contestants picked a partner, it created new teams and the interpersonal dynamics that go with it. As Erza is already "S" Class, she can't be involved with any of the regulars. The large cast also has an interesting variety which surely has someone that the viewer can connect to.
As a series, there is a pattern developing with the arcs. They battle against unbeatable foes, which of course they defeat, sort of, sometimes they do comeback or they make friends with them. Even with this, I still enjoyed what is going on with this arc. It isn't finished yet, so I'm only assuming that is will continue as normal. I don't want to mention any names with what is happening, or who partners with who, as this is part of the fun. There is a finer sense of being part of a guild and loyalty, and not just with in the small friendship groups. Team effort will be vital (like usual).
Visually, Fairy Tail has a lot to offer too. There is a variety of animation styles, which really help set the moods and action. The magic has a different look than the action. Now and then, there are some of the most inventive and incredible perspective shots. As always, the costuming is great. I did find some of the misplace fan service during dramatic moment annoying. The music support is also well done.
There was some interesting things going on with the characters, the  most mysterious was with Mest. I like the way that it unfolded with him. A also like it when Makarov gets involved. His confrontations are more magic against magic rather than magic as battle enhancers. We also get to see a bit of his past.
Fairy Tail is really revealing itself to be deeper and complex  as a series. This current arc ties into elements and characters of long ago episodes.
Now we must sit and wait for  part 10 so we can finish the arc!
 Overall Grade: A-    The story of "The Little Engine that Could" times 500,000.