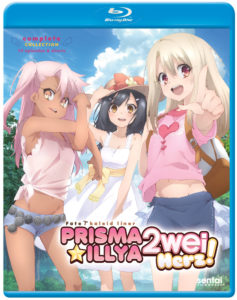 review provided by Andrew & Katie
Title: Fate/kaleid Liner Prisma Illya 2Wei Herz!: Complete Collection
Director: Shin Onuma and Masato Jinbo
Studio: Silver Link
Author: Kenji inoue and Hazuki Minase
U.S. Distributor: Sentai Filmworks, Section 23
U.S. Release Date: January 31, 2017
Format and Length: Blu-ray / 10 Episodes / 250 Minutes
Genre: Action, Slice of Life, Comedy, Magic Girl, Fantasy
Industry Age Rating: 17 and up
Overall Personal Rating: B-
Similar Series or Titles to Check Out: Fate/kaleid Liner Prisma Illya & Fate/kaleid Liner Prisma Illya 2Wei
Synopsis:
Illyasviel von Einzbern's life has become ridiculously complicated since the Kaleidostick Ruby convinced her to become a magical girl and join the quest for collecting the seven Class Cards. Since then, almost every day has brought a new surprise, from gaining new friends and partners like Miyu Edelfelt, to encountering her own magical twin!
One would think Illya deserves a little time off, right? No such luck: a trip to the beach quickly turns into a magical quest, and Illya finds herself caught in a string of magical feuds, encounters with love potions, an excursion into the world of "boys love" comics (plus the women who read them), and half a dozen other delirious diversions.
However, that is only the warm-up for what might be her final mission: recovering the long-lost Eighth Card! It's a mystical whirlwind of unexpected escapades and surprising new revelations as Illya's saga continues in Fate/kaleid Liner Prisma Illya 2Wei Herz!: Complete Collection!
Commentary:
Fate/kaleid Liner Prisma Illya 2Wei Herz!: Complete Collection picks up right where Fate/kaleid Liner Prisma Illya 2Wei left off and turns into a slice of life series for the first six episodes. During those six episodes everything seemed to drag, as nothing seemed to contribute to the plot of being a magical girl. There was not even one fight, or transformation scene. It took some time, but after finishing the series, I understand why they did that and it makes sense, however at the same time I wish they could have staged it out a little more. One thing they did well during that time was to advance the character development quite a bit, and also beyond Illya, Chloe(Kuro), and Miyu. They developed the characters of their group of friends, and the other normally background characters that are rarely seen more than one episode straight. Another thing that went way over the edge was the fan service. I like my fan service, but this got a little too unnatural and redundant after a while. I wish they would have toned down the fan service a bit. It started feeling forced and burdensome. Eventually, it added up and became too much and did take away from the story but the character development helped keep things moving along at a bearable pace.
Eventually after all the trips to the mall, the beach, the festival, the amusement park, and doing the all the summer homework (Basphamy!!!!) we finally are ready to be a magical girl again. As with all the other seasons the battle scenes continue to be very well done and exciting. As always its action packed and exciting. Even though the action was limited to the last four episodes, they did make up for the slowness of the first half. It even eventually explained, in a roundabout way, why they did it the way they did. By the end of last episode, everything is easily wrapped up tightly with a nice little bow. That is until the credits……..
Though this season was slow at first, the eventual payoff is well worth the investment of time. I normally am a fan of slice of life style animes, but for some reason this dragged to me at first. But once you get thru it and understand the reasons why, Fate/kaleid Liner Prisma Illya 2Wei Herz!: Complete Collection is a must have continuation of this great series.
Extras:
Fate/kaleid Liner Prisma Illya 2Wei Herz!: Complete Collection includes clean opening and closing animations Herz! Shorts, and Sentai Filmworks trailers as special features. This series was released with both English and Japanese with English subtitles as language options.
Overall Grade: B-
Fate/kaleid Liner Prisma Illya 2Wei Herz!: Complete Collection is the perfect follow-up to the entire series. Just make sure you watch them in order so you can understand the entire story.