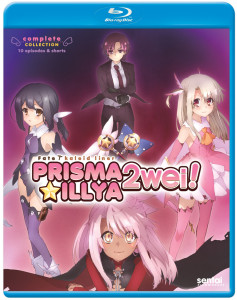 review provided by Andrew & Katie
Title: Fate/kaleid liner Prisma Illya 2Wei! On Blu-ray
Director: Shin Onuma and Masato Jinbo
Studio: Silver Link
Author: Kenji Inoue and Hazuki Minase
U.S. Distributor: Sentai Filmworks, Section 23
U.S. Release Date: February 16, 2016
Format and Length: Blu-ray / 10 Episodes / 250 Minutes
Genre: Action, Comedy, Fantasy, Magic, Magical Girl
Industry Age Rating: 17 and up
Overall Personal Rating: A-
Similar Series or Titles to Check Out: Fate/kaleid liner Prisma Illya
Synopsis:
The magical girls are back and are ready for a new adventure! However, with great powers come great responsibilities including cleaning up the aftermath of your previous adventures. Which means that, instead of getting a break after saving the world, newly changed magical girls Illya and Miyu have to help deal with the side-effects caused by the sealing of the Ley Cards.
Still, that shouldn't be too hard, right? Wrong! Not only are the ley lines failing, but to make matters worse, Illya somehow ends up with a magical clone… and that sinister clone has plans of her own! Worse yet, since the "dark" version of herself is drawing its power from the same source as our heroine, Illya's own powers are being reduced proportionately. These are definitely not the kind of problems that the average girl should have to deal with. It's double the trouble as Illya's split personalities face off and the personal conflicts get physical in Fate/kaleid liner Prisma Illya 2Wei! On Blu-ray
Commentary:
Fate/kaleid liner Prisma Illya 2Wei!, the second season of the magical girl spin off of the Fate multi-verse, follows the continuing adventures of Illya as a magical girl. If you have not watched the first season, I strongly suggest you do or you will have no idea what is going on. They provide a brief but lacking synopsis of the first season as it does little good to update you on events thus far. You will need an understanding of the first season to understand the story of Fate/kaleid liner Prisma Illya 2Wei!.
To be or not to be, that is the question. There are many other questions visited in Fate/kaleid liner Prisma Illya 2Wei! including: does one person have the right to turn back time when another person would cease to exist? When one person becomes two, does either really have a say in the other? It almost seems as if Fate/kaleid liner Prisma Illya 2Wei! asks very difficult and philosophical questions in every episode. The characters are the same from the first season with the addition of Kuro as named by the group, or Chloe as named by herself. Kuro's introduction to the series could be summed up with such difficult stances. The characters are well developed already coming into this season, but it hardly means they did nothing to build upon what you already thought you knew. They continue to build them up and even made previously unlikable people seem likeable. The second half gets less into the philosophical and more into the lengths people will go to protect what is important to them, even when there is nothing they can really do. The story itself was much deeper than you would expect, and in all truth it does not hit you right away how deep it gets, till you are longing for the 3rd season, which I hope Sentai Filmworks will get out sooner rather than later.
One thing that most series of this genre use is simple animation that will appeal to the younger of fans, but instead the animation was beautiful and the battle scenes, with seamless CG (not the CG that stands out like a sore thumb) and multi angle viewpoints were something to behold. There was fan-service but nothing distasteful or in excess. The voice actors brought the characters to life and made the series very enjoyable. The opening and closing songs were catchy and fun to listen to. I have always had a special place in my heart for magical girls, beginning in my early days of anime long ago. Even now I find myself very much still loving the genre. Fate/kaleid liner Prisma Illya 2Wei!, the second season of the Fate/Type Moon magical girl spin off, has earned its place among my favorite titles.
Extras:
Fate/kaleid liner Prisma Illya 2Wei! On Blu-ray includes 2wei! Shorts, TV Spots, Clean Opening and Closing Animations and Sentai Filmworks trailers as special features. This series was released with both English and Japanese with English subtitles as language options.
Overall Grade: A-
If you love the magical girl genre then I think you would thoroughly enjoy Fate/kaleid liner Prisma Illya 2Wei.