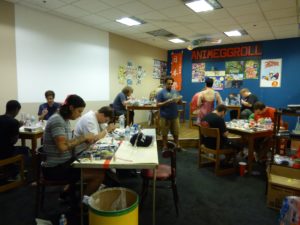 Sunday August 7th was Animeggroll first Gundam Build Competition and from where I sat it was a lot of fun and some amazing builds happened over the short two hours. There were 13 builders that were able to make it and all 13 approached this task with their own special viewpoint.
I want to thank Bluefin for their support and providing the prizes and extra campaign parts that the builders received. The day would not have been as special without the efforts of our judges and I would remiss if I didn't thank them for taking the time out of their Sunday to take on such a daunting task. I also want to thank Jeddi for taking the time to photograph the event, the pictures of the day and the final builds are great and help everyone see just how much fun the event was. Last but not least I want to thank all of the builders for their hard work, in my mind they are all winners.
Here is the link to the photo album on our Facebook page with all of the pictures that were taken of the day. Animeggroll Facebook
We should be announcing our next build event within the next few weeks. We have already begun to discuss all of the great feedback we received and are looking at several option.
Special Note:
There are few things we learned in our first build competition and the most important one was the amount of time allotted. Several of the builders said that they wished they had more time and in fact Thomas Ferkol took the time to finish what he started and has provided the below pics to show us his final work (they are awesome).