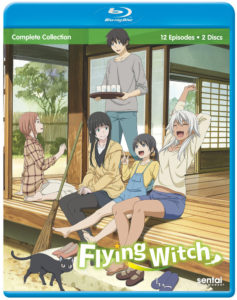 Title: Flying Witch Anime Review on Blu-ray
Publisher: Sentai Filmworks
U. S. Release Date: 10-24-17
Format: Blu-ray / 1-12 Episodes / 300 Minutes
Genere: Slice of Life (magical)
Age Rating: 13+
Overall Personal Rating: B+
Synopsis:
Makoto is a teen witch who goes to live with her relatives, the Kuramoto family, as part of her training. They aren't a magical family, but they really welcome her and treat her like one of their own. Her parents still want her to finish school, so she begins attending the local high school with her cousin Kei. His little sister, Chinatsu, takes some time to warm up to Makoto, but soon admires her and also wants to become a witch too.
True, the magical world is supposed to be kept secret, but Makoto is pretty open about it. When she makes a friend, the "secret" is out. Soon, her sister Akane comes by for a visit and lingers on and on. Mostly she sleeps, but she offers a lesson now and then for Makoto and even Cinatsu.
The supernatural is hidden all around, and we tag along as Makoto and her family discover the wonders and beauty. There are non magical things to discover for her as well, especially as Kei shows her the ways of living with the seasons and finding food in nature and growing things on the farm.
Commentary:
An easy way to describe to Flying Witch is Kiki's Delivery Service expanded and updated. Makoto leaves her family to set off on her own as part of her witch's training, working towards her own independence. This time however, her parents expect her to finish high school, so she moves in with relatives and attends school instead of working. Both young witches are kind, happy, and motivated. They really embrace this part of their lives. They both have a cat companion who she communicates with and acts sometimes like a guide.
I like the look of Flying Witch. I enjoyed the backgrounds, the attentions to details, even making them look just a bit more interesting than reality. Composition and design were actively employed. So, visually there is an extra story to be appreciated. Just looking at the case cover can illustrate what I mean. Instead of a straight shot image, there are intersecting planes, angels and layers that really enrich the whole anime. Often with an emphasis on nature, it was beautifully portrayed, better than a camera could ever do. It is a modern look heavy in realism which I like. The characters had a nice look also. I really appreciate when an anime has easily identifiable characters. The only minor complaint I have, and I'm mentioning it because, well, I don't want to imply perfection, was a weird shadowing on the folds of peoples clothes. Seems like a odd thing to be weak on. Like I said, minor.
There were several aspects in addition to the overall look which I enjoyed or thought particularly clever. The food hunting and preparation was really enjoyable to watch, I don't know if it is true or acurate, but it was interesting. There are really cool effects like "ground fish", basically they are magical fish that swim in the earth. The mixing of the two was well done. I also like the way the magical side of the world seemed so natural, like it really could be a part of the world. Sometimes, the story wasn't about magic at all, and just about ordinary life, and how interesting that alone can be.
The characters are easy to connect with and and pleasant to be around. Makoto is learning and discovering the world in her new home. She is a really sweet and confidant young lady. She is directionally challenged for comedy's sake (in other words, she easily gets lost) but she is aware of the issue and works to overcome it. Even when others keep trying to help her, she insists to do it and learn. The Kumamoto family is also wonderful to be around. I always find it uncomfortable, when in English, the character, in this case, the dad, has a southern accent. The only wild character is Makoto's sister, as she drinks a lot. That got a bit old towards the end. I didn't want to see her drunk again, and don't see how it benefited the story.
There is a soft ending, and by this I mean there wasn't any build up to a climax of the completion of a goal. It just sort of pleasantly ends as life continues to roll on. I enjoyed the series and feel that they can add on to the series successfully if they want. Every thing was still fresh and I'm left hoping the characters continue to do well.
Extras include "petite" episodes, where SD forms of the characters sort of do silly little short skits.
Overall grade: B+    Definitely a pleasant way to spend your time. Beautifully depicted world, nicely animated, and characters we'd want to be friends with.