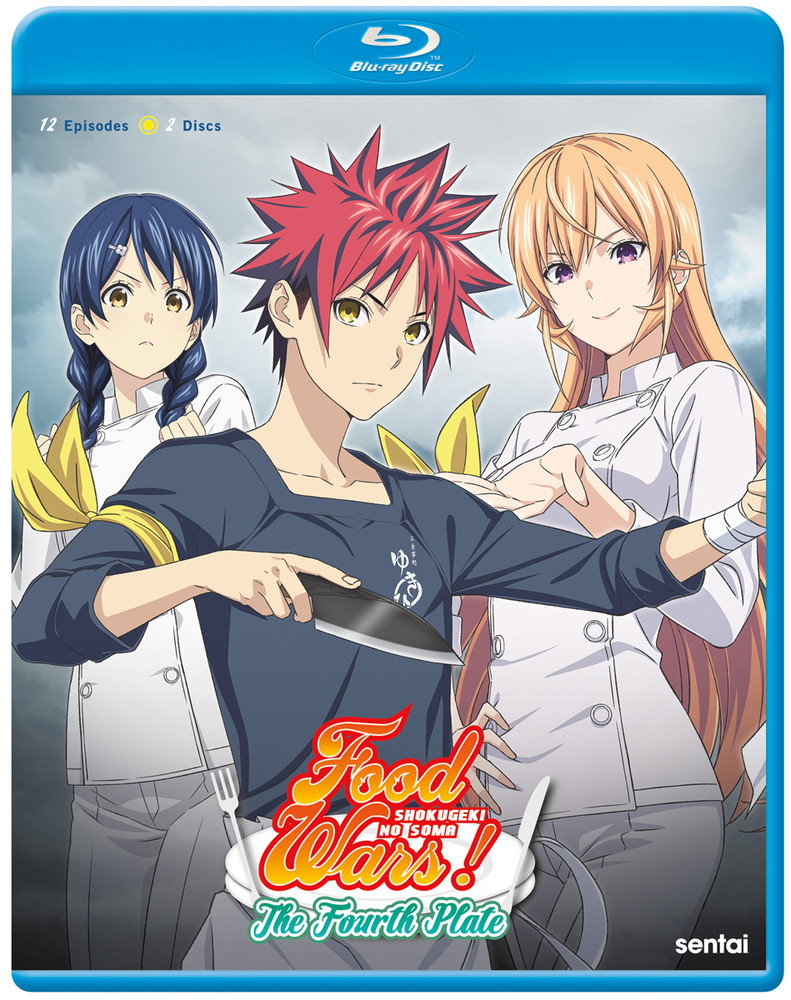 Title: Food Wars: The Fourth Plate
Director: Yoshitomo Yonetani
Studio: J. C. Staff
U. S Distributor: Sentai Filmworks, Section 23
U. S. Release Date: Feb. 23, 2021
Format: Blu-ray / 12 Episodes / 300 Minutes
Genre: Slice of Life, Cooking, Comedy
Age Rating: TV 14+
Overall Personal Rating: B+
Synopsis:
The ultimate Regimental Food War continues as the culinary rebels led by Soma and the members of Kyokusei square off against epicurean elitist Azami and the Totsuki Ten. At stake – the future of dining across Japan. Because if the rebels fail, Azami intends to impose his own tastes and techniques on the entire restaurant industry!
But the fine dining control freak has made a serious mistake in threatening the futures of Soma's friends and family, as while the rebels may seem less experienced overall, this is ultimately a clash of skill, dedication, and, most of all, taste. That may be a recipe for disaster for the seasoned veterans! There are truffled times ahead, and it's anyone's guess as to whose goose will ultimately be cooked in the mind-roasting season long battle!
Commentary:
In the world of Food Wars many things are possible and Soma continues to prove that goofy determination just might be the only way to get ahead.
At the end of the third season I was excited to see how this battle played out. As I expecyed things went in a very predictable way, and I found myself wishing for some twist to take over and make everyone more enjoyable. All to many anime series beging to loose site of what made them outstanding to begin with and end upbecoming reflective shell of what they once were. Food Wars is begining to look like one of those series. I would love to see more growth in the characters and less predictable outcomes.
With all of that being said, the fourth season of Food Wars is still enjoyable and ends on a very high note. I have a very high for the last season. With the outcome of the fourth sesaon I am very interested to see how they wind up the series with The Fifth Plate!
Overall Grade: B+
Food Wars has been a preinial top teir aniime for me but this fourth season left room for improvement. Of course the animation and voice acting was above par but the writing and season development fell short. I felt like they could have done this in four episodes and not waiste your time with a great deal of the story. Im not saying it was bad, but rather I found it lacking much insight or plot advancement.
I am still a major fan of the series and can't wait to see the final season. Things are shapping up to be very interesting. So, I must say that this is a must see for any Food Wars fans and believe that people just coming to the series will find it very entertaining.