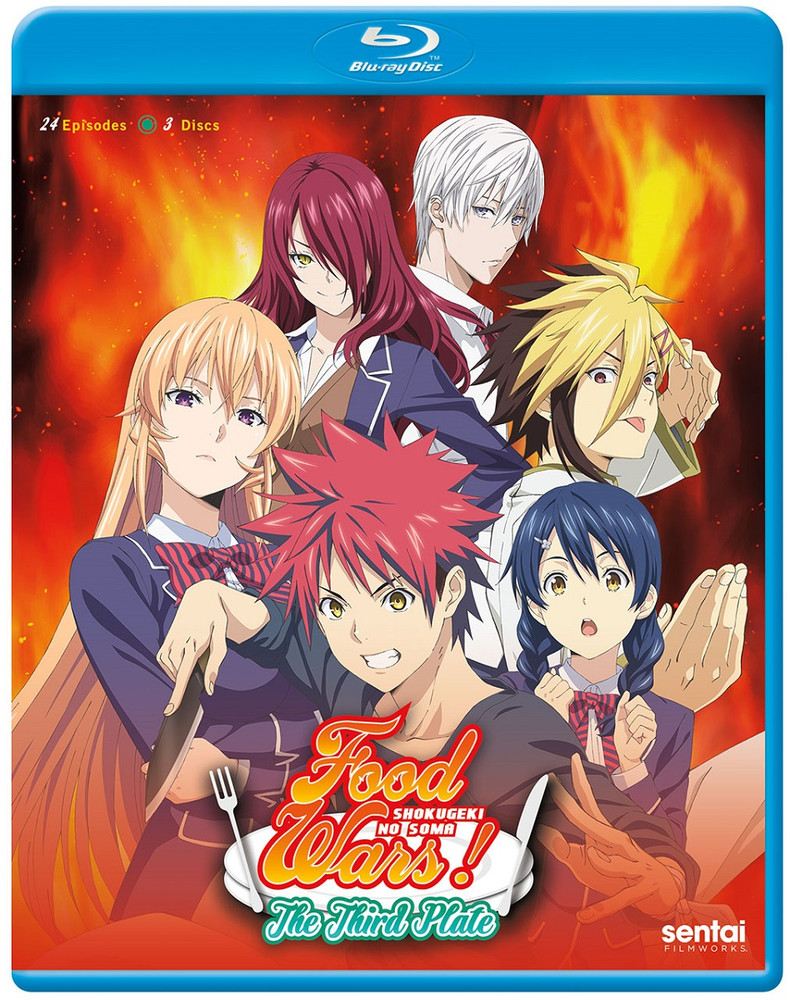 Title: Food Wars: The ThirdPlate on Blu-ray
Director: Yoshitomo Yonetani
Studio: J. C. Staff
U. S. Distributor: Sentai Filmworks, Section 23
U. S. Release Date: February 25th, 2020
Format: Blu-ray / 24 Episodes / 600 Minutes
Genre: Comedy, Food Battle, Slice of Life, Harem
Age Rating: TV-MA
Overall Personal Rating: A
Synopsis:
Young Soma Yukihira – who has honed his cooking skills while working as an assistant at "Yukihira," the family eatery – has successfully entered Tohtsuki Fine Dining Academy, a cooking school for the ultra elite. At the academy, he meets various chefs and develops his skills while striving to create his own unique brand of cooking. It is during the Lunar Feast, a time-honored Tohtsuki tradition, that Soma chooses to take on one of the members of The Ten, which comprises the academy's most accomplished chefs.
Meanwhile, Azami Nakiri – the father of one of Soma's fellow students – has worked behind the scenes to found Central, a pivotal organization dedicated to haute cuisine, yet has remained barred from cooking aside from select recipes taught in his lectures. Finding themselves at opposition with how Central operates, Soma and some of the other Tohtsuki students decide to stand and confront this threat head-on. As this is going on, Soma and the others will be faced with the Promotional Exam, referred to as one of the greatest hurdles at Tohtsuki. An even more heated battle is about to begin!
Commentary:
In my prior reviews of Food Wars I was very clear about how I felt regarding this series and the Third Plate has only reinforced this feeling. I was so afraid that it would fall into a overly formalaic series like Yu Yu Hakusho or Inu Yasha or even Bleach, but each season has managed to provide something new that keeps the viewer wanting more and at the same time loving every minute.
As the series develops there seems to be more and more character development and the very sincere effort to bond these characters in ways that will only make them stronger.
Overall Grade: A
Okay, I know that some of you might think that I have a bias for this series and I am not afraid to agree. I find so many positive elements in this series that makes it hard for me to find fault with some of the weaker aspects and some of the overused plot devices. I am sure that there are plenty of anime fans that do not see Food Wars the same way I do, but I also saw how Naruto and Bleach took so many deficiencies and overroad them with positive attributes that made the series long lasting favorites.
Food Wars: The Third Plate takes to a honest cliff-hanger to set up the fourth season to be some fun and action along with learning about how food and flavors work together.
If you want fun and loved Iron Chef then you really need to get you some Food Wars on.