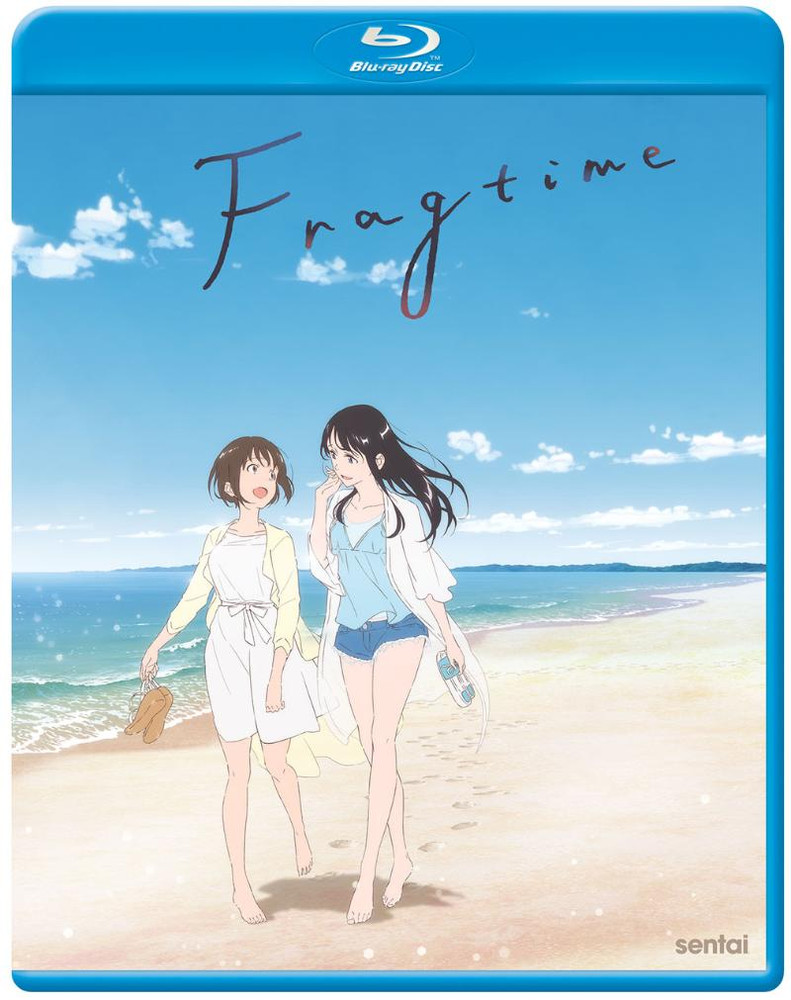 Title: Fragtime
Director: Takuya Satō
Creator: Takuya Satō
Studio: Tear Studio
U. S. Distributor: Sentai Filmworks, Section 23
U. S. Release Date: August 18th, 2020
Format: Blu-ray / Feature Film / 60 Minutes
Genre: Yuri, Sci Fi, Fantasy, Romance
Age Rating: TV 14
Overall Personal Rating: B
Synopsis:
All Misuzu Moritani has to do is think about it and, for three minutes, time seems to halt for everyone but herself. But three minutes isn't long enough to go anywhere and come back, especially when you can only do it once a day. So, mostly Misuzu just amuses herself… until she makes the mistake of sneaking a peek up the skirt of a classmate she's been crushing on and it turns out that Haruka Murakami is somehow immune to Misuzu's powers! Oops.
And now a really embarrassed Misuzu has to make it up to Haruka. Double oops. Even if it means getting into a "relationship". Wait, what? With great powers come some really big apologies and maybe a new romance as two girls take a little time off from the world!
Commentary:
Fragtime is a very interesting anime in the way it approached the question posed "If you could stop time for 3 minutes, what would you do"? Of course it took a very narrow view, but it was able to tell a compelling store in 60 minutes. I found myself become conflicted on how I felt about these young yet complex characters who manage to exhibit the polar opposites of personalities in high school. The popular extravert and the quiet forgotten introvert.
In a matter a few minutes I found myself liking one of the two and then see a flip on my feelings toward each one. I think that Haruka managed to flip me back and forth the most. Her positive and popular character is both engaging and then she felt very menacing in a flip of a switch. Misuzu is just painfully introverted and shielding which can make you feel compassion toward and then anger for her inability to express herself.
Overall Grade: B
Not being a fan of Yuri, I thought I was going have some real difficulty getting into the Fragtime. After spending a few minutes I lost that apprehension and began to realize why it was setup as a Yuri anime. It was two fold, first it was made a Yuri just to appeal to the new interest is sexual confusion. Of course the Japanese have always played with sexuality. On the other-hand it was clear that it was easy to show off these characteristics with the female high school persona. I guess that I would have been able to relate if it would have been a extraverted guy and a introverted girl, but I didn't make Fragtime so, that is just a one sided opinion.
Once I got over the personal bias I began to understand the strength of the film. It is all about how it is hard to be both popular and introverted. I was able to relate to both and in the end I liked both and was happy with the way it ended. 
If you like slice of life that has something to say then you will really enjoy Fragtime. I am sure it will attract the Yuri crowd, but if you are hesitant about Yuri you should give Fragtime a chance, I think you will enjoy what it has to say.